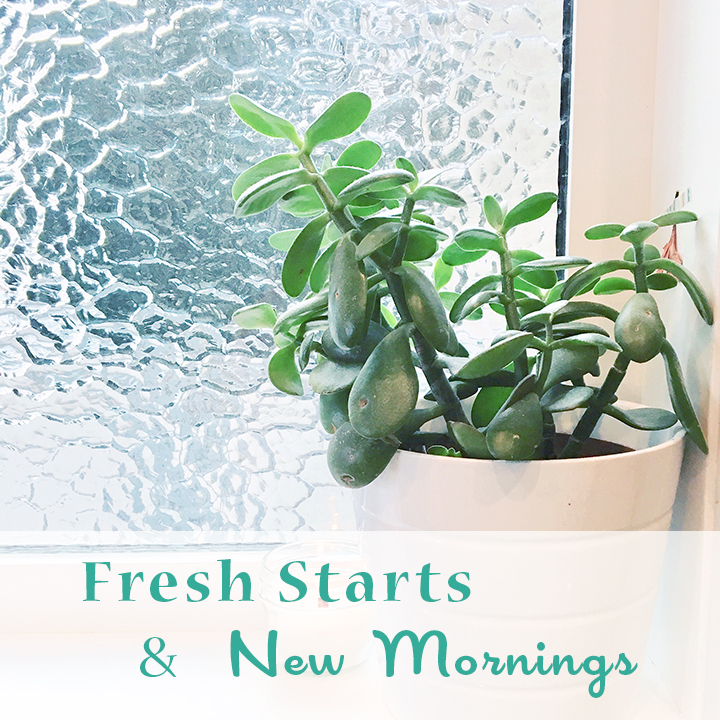 I'm a fresh start kind of girl. I'll look for any and every fresh start there might be.
A new week? Check!
A new year? Definitely!
A new month? Yep, that counts too.
A new season? You better believe it!
A new morning? Absolutely. And quite possibly, the most important fresh start of all.
I love all fresh starts.
But the "New Morning" holds an especially important place in my heart. The fact that it comes so often, you would think would diminish its value, but in fact, I believe makes it all the more valuable.
I don't know about anyone else, but I know that I experience enough rough days, grumpy days, frantic days, and do-over days that if I didn't hold tightly to the promise of a fresh start the next day, those troublesome days would become all the more overwhelming.
I've been working on my Morning Routine for a while now (as in, it's taken me at least 2 years to get to this point). I've experienced firsthand the benefits of a Good Morning ("Good Morning" as defined by me involves coffee, reading, quiet journaling, cozy blankets, maybe some mindful reading…and it doesn't involve children) and can note the drastic difference in the tone of day with or without one.
However, as amazing as a Good Morning Routine is, it also involves a pretty major sacrifice: waking up early. As in, before my children. As in, before the sun. This is not something that comes easily or naturally for me.
But.
There came a point last year when I just decided to go for.
To make it happen.
I've learned in the process that, for me, morning hours are more valuable and productive than evening hours and so I feel better about actually getting to bed on time. I'm starting to crave and CLAIM that hour; I even visualize it sometimes. And because I feel a sense of ownership and anticipation for that alone time, I am willing to do the work and make the sacrifices to make it happen.
Another interesting correlation I've discovered is the relationship between the evening routine and the morning one. My evenings now have their own routine I have deemed "setting up for success" in which I put my house back together, set the coffee, prep all the things that need prepped for the morning (lunches, snacks, etc) and, in a super ideal evening, I even unload the dishwasher. Just as I've found a Good Morning Routine can set the tone for the entire day, I find that being "set up for success" before I retire for the evening sets the tone for my Morning Routine…which then sets the tone for my day…and so on.
It's not always perfect.
Sometimes I just can't force myself out of bed.
Sometimes my kids are awake at 6am with me (although they are learning that that time is mine as I send them back to their rooms to read or play quietly with a morning snack).
Sometimes I still feel frantic and scattered afterwards.
But mostly, it works.
It's something I've learned to do to take care of myself, which helps to take care of my family.
I'm hoping to enrich my quiet mornings with practices of mindfulness and intention setting, but for now, I'm pretty content with the routine I have going.
Perhaps you have an idea of a routine or practice you'd like to establish in your life. It might not be a Morning Routine. Or maybe it is. Regardless, I would encourage you to give it a try. To think through the things that would need to be in place for it to happen. What steps can you take to move toward that goal? Self-care isn't always the easiest thing, it can involve effort and sacrifice, but truly taking care of yourself is well worth it.
Good luck!