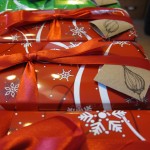 Our house felt a lot like Santa's workshop this past weekend. There was so much "making" going on in in the basement, the kitchen, the dining room, and the sewing room. And it was just the two of us. I'm so very thankful that we have the space to do so much in our home. I can't imagine trying to do it all in our old apartment! There would a lot more swearing, chaos and ruined carpet. With our home though, we can keep the dangerously messy task of dying fabrics contained in a section of undeveloped basement, leaving hubby the entire kitchen for his "making". Some of my "making" is still in progress, but the result of hubby's is in those lovely tins. Aren't those simple paper tags so sweet? That's all him. Quick sketches on kraft paper, backed by an art degree.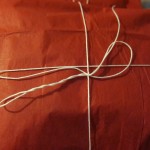 We have regularly made gifts for Christmas, sometimes out of need because money was tight, and sometimes just because we love making things for our family and friends. There has generally still been bought presents in amongst those handmade gifts though. This year we have been thinking and talking a lot about gift giving, in particular, for Christmas. I have become a lot more conscious of, well, everything this past year. Spent time questioning how much of the super consumerist world I want to get entangled with, what's healthy and what's not, and what really matters. There have also been lots of conversations about how we would like to raise our children. In reflecting about how we celebrate Christmas, we have a strong desire to simplify the gift giving. Some of our thoughts were nicely expressed in Leo Babauta's post "The Case Against Buying Christmas Presents". So we hope to cut back on the amount of gifts that we receive from others and eventually move to gifts of "time", especially with family. As for hubby and I, we want to move to only making gifts for each other. No bought things. We didn't really come to this decision until after we had each bought items for each other this year, but we're excited to do this next Christmas.
As for the Christmas "making" that I undertook this year, I can show you a sneak peek, but the rest will have to wait until after folks receive their presents (as some of them may be reading this). I am enjoying the colourfulness of everything! So typical of me to point out the colour, isn't it? Anyway, the gift making is a nice mix of crochet and sewing projects with tie-dye thrown in there. Most of the Christmas crafting was put on hold until after the big craft sale, so I'm now working diligently to get everything finished up in time. Lucky for me, my brother and his wife are away for Christmas, so that's two gifts I can complete after Christmas while I have some time off work. Now I just have to figure out when I'll sneak some baking into the week.