All this talk of making things for babelettes reminds me of a project which I have yet to share with you here. It was started well before the birth of this blog, although I did mention its completion in an early post here. And so the details on that project which were to follow are coming to you now, only slightly behind schedule. You're so very patient.
Along the road of improving my crochet skills, I decided that what I really needed to do was to learn how to make granny squares. They seemed like some fundamental crochet technique that was imperative to acquire. As it turns out, making granny squares is really not all that difficult, or perhaps I've just only made the easy ones. While I had all of this brewing in my brain, longing for some purpose for which to focus this granny square making (I really do need an end-goal or things tend to lay unfinished), we were simultaneously starting to struggle with motivation at work. It hadn't been the easiest of years and as yet another massive, monotonous project was laid out before us to tackle, let's just say that the team was feeling less than enthusiastic.
At the start of this massive work project, we had already decided that what we really needed was a visual progress bar or else we might go completely crazy (or crazier). As all my keyword co-workers are crafters, it seemed natural that our progress bar be something crafty that we could all appreciate. This is where the granny square project was born. Combining work and crochet?! Well, sort of. I did refrain from actually crocheting at work, but it gave me some purpose and something soothing to do in the evenings after work. Cheap therapy, that's what crafting is all about!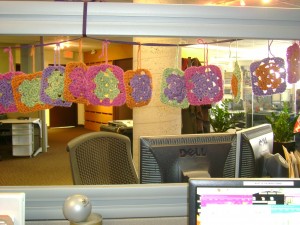 With hook and yarn in hand, I settled into the couch and started making square after square. I swear I used a granny square tutorial on Attic 24, but do you think I can find it now?! No matter, the granny squares I made were very basic. I do remember that the pattern called for three colours per square, but I quite liked just the two.
At the end of each week, as we totaled all our work, more granny squares would get hung up around our desks. I believe each square represented 4,000 entries that we had to go through. Now you understand the need for a visual progress bar. The more work we completed, the more colourful our entire space became and the more people stopped by to see what we were up to. It was lovely!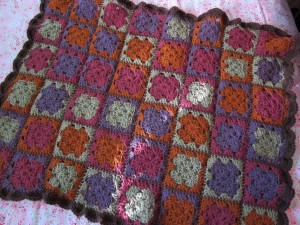 Thankfully, that massive work project did come to an end to the great satisfaction of everyone. The granny squares which were no longer needed, came back home with me where they sat for a time without much purpose. That is, until my friend from work told me she was expecting her first baby in October. Wouldn't you know, I had the perfect number of granny squares made up for a baby quilt! Just one extra square. With the realization that I would also have to be off work for two months to recover from my surgery, it seemed that things were coming together just perfectly for me to make an entire granny square blanket. I used a basic scalloped edge to create a bit of a border along the blanket and voila! Soft coziness to keep a babelette warm! There are some more pics here of the completed blanket.
The moral of the story, is that obviously, granny squares are incredibly versatile! They go from work to play in no time flat. So the next time things are getting a touch repetitive at work, consider bringing crochet onto the scene. You'll be glad you did.