I feel like I have been neglecting this here blog a bit, posts becoming farther apart; more time spent in front of the sewing machine than in front of the laptop. So I thought I would pop in and give a brief update on all the sewing progress and preparation for the Make It show. Remember when I said I wanted to spend a little more time experimenting and exploring some new sewing ideas? Well, that's what I've been doing for the past week. And it has been FUN!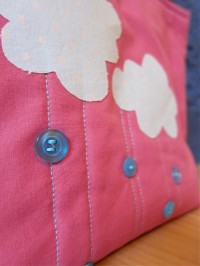 Say hello to the newest purselette gals! Miss "I won't let the rain keep me down". She enjoys long walks on spring evenings and splashing through puddles. You might even catch her indulging in an ice cream cone.
And next we have Miss "I see rainbows on a sugar high". She's a shopaholic who can't resist anything with glitter and hearts. You're likely to find her baking sweet treats at home, with a cake decorator in one hand and a glass of cream soda in the other.
In case you're starting to get a bit worried, I have not gone completely crazy. There's just something about sewing colourful buttons on bright pink and teal that starts to make you go a little loopy. Anyway, what do you think of the newest editions? Quite different from my stripey purses, but I love their playfulness!
After turning out quite a few more purselettes, I've had to buckle down and take a serious look into how exactly to display all of these at the market. I've been dreaming of a coat rack-type of display unit and wouldn't you know it, one of my fellow Etsy team members recently had her husband make one for her. Hilda of Handmade Therapy was sweet enough to pass along a photo of it. It's a fairly simple design, but I think it would be perfect. So, enlisting the help of my wonderful father, I will hopefully get something similar constructed this week. I'll let you know how that goes.
Wishing you fresh spring showers and sweet cupcakes until then!
(About two hours after I wrote this post, little white snowflakes started to fall. 15 hours later and it is still falling. Not quite the spring rains I was hoping for, but I guess I should know better… thinking that I need to come up with a winter wonderland purselette)