It is now Monday, which means I survived the craziness of Make It! It was a looong weekend and I'm super pooped right now, but it was a lot of fun! Things worked out great with Kalen (minibytes). Got to meet some fellow Etsy Alberta Street Team members who were also vendors at the show and some members who just came down to shop. Always great to put a face to a name! It was also just good to talk to fellow vendors about the craft market scene. You end up learning so much from each other.
Surprisingly, Sunday seemed liked the busiest day of the show. The sun came out and it ended up being really lovely outside. Silly Calgarians are so tied to their weather. I swear the sun made everyone just happy enough to start buying things. Maybe it put everyone more in the mood for spring and summer, who knows. I think, all in all, it was a decent turn out considering that this is the first time that Make It has done a spring show in Calgary.
The organizers, Jenna and Chandler Herbut, did an awesome job promoting the show, so a special thanks to them for doing a great job with that!
The flip side of all this positive happiness, is the hard truth that I sadly didn't have anywhere near the number of sales that I had expected. Many of the vendors were disappointed with this too. It certainly makes it difficult to attend these shows, if you can barely make the table cost back, and I was sharing a booth. Certainly slow sales were not the case with all the vendors and I'm happy that some folks did so well. Which just makes me reflect even more. Is it the show? Is it the Calgary craft scene? Is it simply this year? Is my product line not fitting with the customers? Are my prices all wrong? Should I use different fabrics?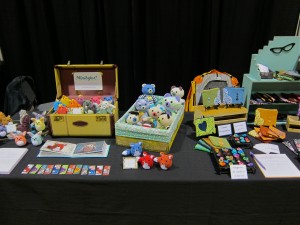 I just don't know. The uncertainty makes it so hard to know where to go from here. What should I spend my time making?I try to stand by the theory that if you make a product that you truly like, than others will like it too. Is this just some lofty business theory? I mean, you HAVE to stay true to yourself, right? No self-pitying here, just a tinge of disappointment. The big show of the spring/summer kinda flopped for me in terms of sales and now I'm left questioning my next step. Oh the joys of running a business. No straight clear path to follow. No pre-determined recipe for success.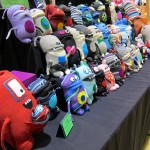 Will I attend another Make It show? TOTALLY! I'm really keen to be a vendor at the fall/Christmas show. If there is one thing that I'm learning, it's that you can't necessarily judge a craft show on a single attempt. It can be so very hit and miss (another joy of having a craft business). It all seems like one big mystery. Maybe it will never become any clearer for me, but I'm going to be patient with myself. I've been working on my business for less than six months and I feel good with how far I've come. Little steps with a couple bigger ones thrown in.
For now, I keep marching on. I'll be attending another event as a vendor in just under two weeks. That's a bit of surprise, but I'll give you a hint. Two words, "roller" "derby" 🙂 I have new fabric to sew up a bit of a different product line for that, so I'll be hiding out in the usual spot for the next while, in front of my sewing machine. Also have some gifts to make and another custom order to complete. Going to take a brief moment today, though, to sit outside in the sun and recharge.
Wishing you all a lovely, sunny Monday!
PS – Both Stuf'd and Nik Naks are fellow team members.
Yet another PS – Make sure all you Canadian folk get out to the polls today and vote in the federal election!! Exercise your democratic right in peace and please don't turn an apathetic cheek towards this day.