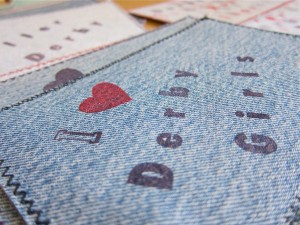 And I *heart* fabric postcards, so this project was a perfect match. I just cut up some old jeans, sewed the denim onto card stock with a zigzag stitch and then dug through my stamp collection to find the appropriate stamp bits. Oh, and I also ran the card stock through the printer (prior to being sewn obviously) so that I could print my website and a basic postcard back for a more professional look. Simple and fun!
And yes, you can actually send fabric postcards through the post. I used to organize a postcard exchange between all my art friends and you'd be surprised what you can send through the mail! I loved doing that postcard exchange! I have a shoebox of postcards that I received. One day, I need to figure out how to display them all together. It would make a wonderful art piece and an amazing reminder of the incredible talent that I'm surrounded by.
Oh so, if you happen to be coming to the Calgary Roller Derby bout tonight, stop by and say hi. I'll be there with all my new items for sale, plus some handmade items by my mom and a few crochet critters by minibytes. A fun mix of stuff!