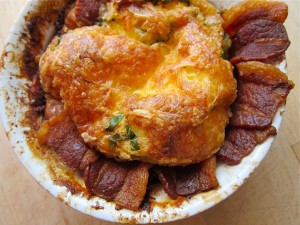 But mostly for the hubby I love. This creation was made for hubby's birthday at the beginning of the month. He has a love affair with bacon and since he's a low-carb dieting man (for over a year now) I was trying to come up with something special for a birthday dessert. We've both tossed around the idea of making bacon crust pies for quite a while now and this was my first attempt at one.
It was inspired by the recipe found here with lots of the usual adjustments and tweaks I tend to make to anything I cook. First off, I didn't do it in a cast iron pan. Instead I used a ramekin dish so that I could make smaller, individual-sized quiches. The tricky part with my choice of dish is that I had to keep drawing the bacon grease out with paper towels, as it didn't have anywhere to drain off. The bottom of the crust never did get as crispy as desired, but the edges were great! I used eggs, cream, swiss cheese, and basil for the filling. It puffed up nicely almost like a souffle. Then I beat some cream cheese with milk to make a lovely spreadable topping. So delicious… or so I'm guessing. I didn't actually try it out, but left it all for hubby to devour.
Next up are small ramekins of bacon crust pecan pie. Maybe it's my prego hunger talking, but I think the sweet and salty combo would be delightful! Of course it's not low-carb, so I'll have to eat them all myself… darn, what a hardship.