Yes they do. Truly. And I am so very thankful for the 6300 people that came out to Make It over the course of three and half days to support local designers and their handmade creations! An astounding 2800 people came through on Saturday alone! Phew! You made the time creating, the road trip and long days so worth it! Definitely proud to have been part of the Make It Edmonton experience this year! Special thanks to my booth-mate and crafty bud Kalen of Minibytes who helped me survive the event. I think we make a pretty good team! They're not the greatest, but here's some pics of our booth to give you an idea… the return of the Table of Cute:
And of course the Make It experience would not be complete without meeting several fellow Etsy Alberta teamies. Besides those who were vending at the show, there were many who just popped down to shop. You guys are seriously the greatest team! Here's a few pics: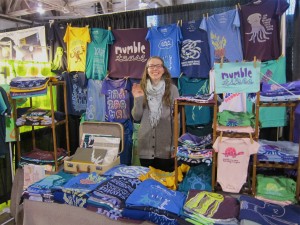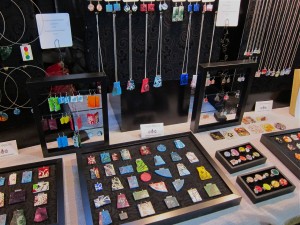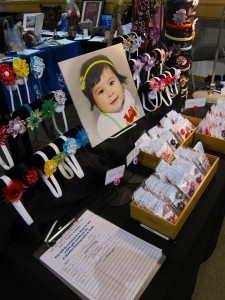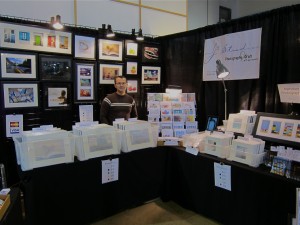 I didn't manage to get photos of all our team member booths, but here's a shout out to the folks I missed:
Emma of 2K Design (from whom I purchased a very fun portable change pad)
Amanda of KabukiKreations (who had the littlest, little helper at the show, the adorable Hugo at just over a month old!)
Sally of Tweeling (whom I didn't even get a chance to chat to… an indication of just how busy this sale was)
Man, it's been a week since the show, and I still feel like I'm recovering from it. The pregnancy exhaustion is settled in pretty good now and I seriously can't wait to slow it down a bit with the craft shows. This coming weekend is my first weekend off in over a month, with no craft shows to attend! Very excited about this! Hoping that we might do something like buy our Christmas tree or perhaps purchase the baby crib. One craft show left on December 10th and then the season is done for me! Leaving about a month to make warm things for baby.
Thanks again for the awesome time in Edmonton!