So here we are, only one sleep away from welcoming baby. Can you believe it?! The time has really flown by. Lots of things didn't get finished and will just have to wait for another time. I'm okay with that. We'll take this all in stride, like we have all the other things that have come our way. That's not to say that I'm not freaked out about how to keep an infant alive, though. I just mean that we'll figure out how to fit things into our new life, find a new way of walking through each day and moment. I'm embracing the change that is coming our way.
Here's a little tour of the nursery that has been slowly coming together over the past several weeks, as different bits of furniture arrived. The walls are looking a tad bare, but rest assured, there are plans in the works for getting it more cozy.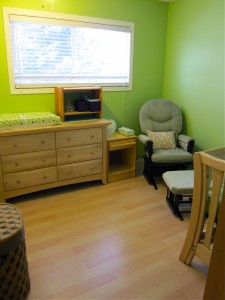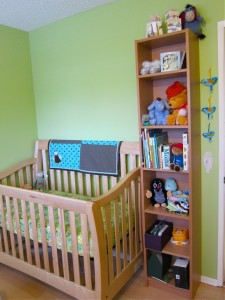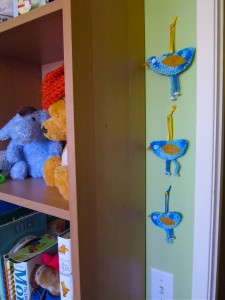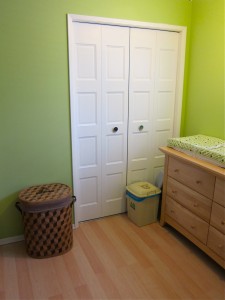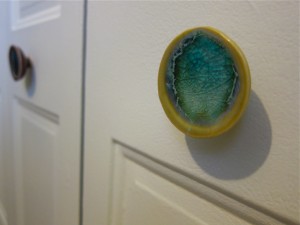 A couple of notes… the crib sheet, which you can't see too great in these photos, is adorable! Just take my word for it. I purchased it from a fellow Etsy Alberta teamie, Jaimie, who runs Parker & Posie. Thanks so much Jaimie!
And as for those wondering about the little crochet birdie family, I made them up over a year ago, using a tutorial by Attic 24. I simplified things a bit (as I tend to do) by just cutting the wings and beaks out of felt, instead of crocheting them. They have little buttons for eyes and feet and they hang from a ribbon. I made two sets of these birdies at the time, but the other set has four birds… maybe one day in the future we can upgrade to that, but for now, the number three suits our little family.
Those knobs on the closet doors are a big deal (to me, anyway). Since the day we moved into this house, those door have been without knobs. Who knows where the previous owners put the original knobs! It didn't matter much for a couple of years, because this room was the office and the closet didn't see much action. But as we started converting this room into the nursery, it became more and more important to me to have, not just proper knobs, but unique knobs. We finally made our way down to Anthropologie last week and quickly found several beautiful options. We decided on two of similar design, but each is a different colour. Keepin' it quirky in the nursery!
Well, I guess that's it… in less than 24 hours we will (hopefully) be snuggling with our new baby and embarking on a wonderful journey. I'll introduce the little one on the blog, as soon as I am able. I am prepared to be very patient with myself as I recover from the c-section and learn to care for baby. *If I get a chance today, I hope to prep some pre-scheduled posts for you to continue reading while we are consumed by our new life.*