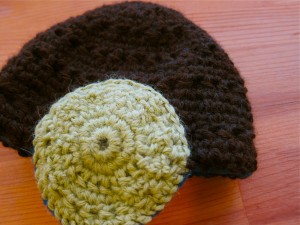 When we discovered that we would be having a January baby, I knew that I would need to make some super cozy things to keep baby warm in our Canadian winter. Here was one item that I made. A toque. Some call it a knit hat, but here in Canada, it's a toque.
I made this toque from a pattern purchased on Etsy, from a shop which also sells one of my fav crochet baby sweater patterns. The toque pattern is called Thinking of Autumn by Vita of Mon Petit Violon. It is made with 100% alpaca yarn from SandnesGarn. There are hundreds of crochet hat patterns for babies out there, but this one really appealed to me because of the ear flaps. If it was going to be -35 Celcius outside than protecting those precious baby ears and cheeks seemed very important. I made a slight addition to the toque (don't I always do this sort of thing?) by lining it with Polartec 200 weight fleece. Even lined the ear flaps. The result was a super warm toque for baby boy. The downside, the lining took away a lot of the stretch of the hat, so it only fit Sam for the first month. It did, however, serve its purpose… the day we brought Sam home from the hospital, was one of the coldest days of this winter.
I started working an another one of these toques in a larger size. In fact, it was the first craft project I started once I got out of the hospital. All the pieces are made, it just needs to be assembled. It should last Sam into the spring (when we frequently see big dumps of wet snow).