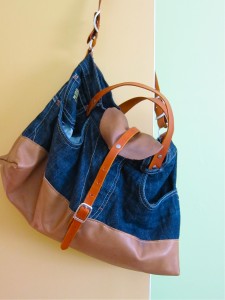 Let's just take a moment to marvel at this gorgeous purse! I mean, really. I'm so in love with it! A pair of old jeans and leather, a long strap and short handles, even the silver buckles. I adore it all. AND it is was made just for me by some very special. My best friend and incredibly talented brother Aaron "whipped" this up for me on Christmas morning. I'm not even kidding. The leather stain was still drying when he gave it to me in the afternoon on Christmas day.
If your mouth is hanging open in disbelief, I'm not surprised. Mine was too, although it shouldn't have been. His talent and near genius are qualities that allow him to make & do anything he's ever had an interest in. From sewing Gore-tex snowboard pants & jackets in junior high, to his new found love of leather working (which kind of came out of nowhere) to his pipe carving and collecting. And those are just the crafty hobbies that he does in his free time, when he's not working at iStock or off on a canoe or ski trip or building things out at our family cabin. Starting to get the picture?
I realized recently that I rarely mention Aaron on my blog. This special bag gave me the excuse to do so. Sometimes I tend to spend more time looking back, reflecting on the loss of one brother instead of rejoicing in the friendship I still enjoy in the other.
This bag is a wonderful daily reminder of that friendship. And I am so very thankful to my big bro Aaron for it. You can read about his process in making the bag and his gorgeous photos of it on his blog.