In other words, one whole YEAR! We did it! We managed to keep our little baby boy alive for an entire year (with the much needed help of family, friends and God himself along the way). Phew!
We finally got him officially measured at the doctor's office last week. Sam weighs 25lbs and is about 33″ long! A tall fellow indeed! He recently shot up in height and has lost a bit of weight and baby rolls now that he's crawling non-stop.
Yes, crawling! Everywhere. All the time. Keeping us extra busy, baby proofing and preventing big accidents (the little ones happen about five times a day & that's ok). He's also showing interest in trying stairs and pulling himself up into a standing position against furniture. Current fav thing is being chased around the living room, as long as you're crawling too.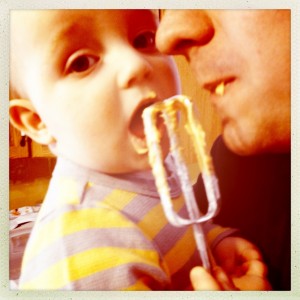 His eating frustrations have improved slightly. We try to give him lots of finger food options at each meal and snack time. He's getting much better at feeding himself. We're also starting to experiment with drinking from a cup. Not a sippy cup, just a little regular cup. We recently discovered that he loves yogurt fruit smoothies & happily drinks them from his cup. Oh and he's just started using a straw.
Sam loves eating pork chops and some ground beef dishes (meat loaf, chili). Yogurt is still at the top of the food list though. He's finally getting into eating cheese, which he likes shredded, and raisins. He pretty much wants to try anything that you put in your own mouth. Needless to say, it makes you think a lot about what you're eating.
Current fav activity is sorting. Sam has been doing this for months actually, but it's definitely a part of the daily routine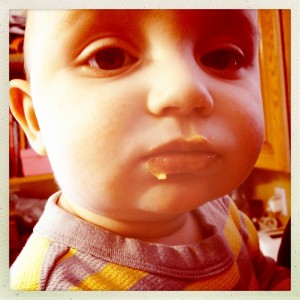 now. He sorts the videos, books, sketchbooks, his box of greeting cards, the laundry basket full of diapers, and his kleenex box full of fabric scraps. Give him a pile of "things" and he enjoys picking up each item and sorting them into new piles.
He finally has a book he's in love with that isn't cat themed! The current ultimate fav book is Moo, Moo Brown Cow! Have You Any Milk? by Phillis Gershator. He still enjoys his kitty books though. We recently discovered a series by Sam Llyod featuring a cat named Mr. Pusskins.
Sam's enjoyment of Taylor Swift has continued to dominate his music selection these days. Marcus has even starting watching Taylor Swift music videos with Sam while I take my evening shower. So cute. Other entertainment has come in the form of watching Star Trek: The Next Generation with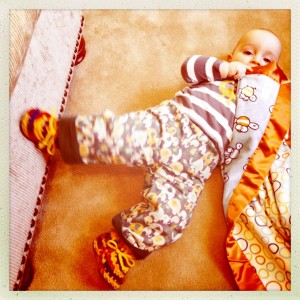 daddy and Vampire Diaries with mommy. It's become a bit of a late afternoon tradition. Quiet cuddles on the couch together while we veg a bit.
The need for an afternoon couch veg session came about last month, when Sam started only napping for 20-30min in the afternoon, followed by 15-30min of intense screaming. Nothing we did could calm him down or get him back to sleep. On a whim and out of complete frustration (I'd just totally given up one day), I sat down on the couch with screaming Sam in my arms and turned on the television. He settled down in about 30 seconds and sat quietly, snuggled in my arms. So now we sit together and watch a little something after nap time (he doesn't do the scream fest much anymore, but still seems to enjoy the cuddle time).
Naps continue to be a bit chaotic right now. We're pretty sure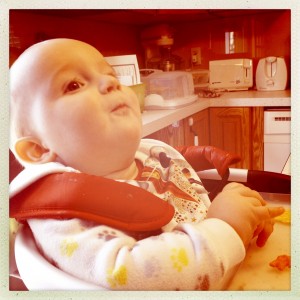 he's starting the transition to one nap a day. Unfortunately, his longest & best nap is in the morning, which makes for some long days. Here's hoping that over time we can get his nap time to fall a bit more mid-day.
(With this one year milestone reached, I'm afraid I might disappoint some folks by saying that I won't be continuing with the monthly Sam updates. Periodic updates are sure to follow, and photos from time to time. Thanks for reading along and watching Sam grow & develop over the past twelve months. It has been a pleasure to share it all with you here, my virtual baby book.)