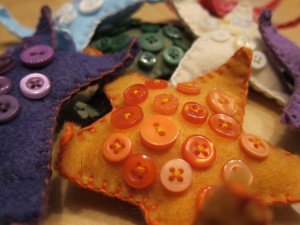 I had all sorts of grand plans of crafting that I wanted to do while I recovered, but I started out with reading. I had stocked up on some new paperbacks (working my way through some Charlaine Harris books) and also pulled the entire Harry Potter series out to re-read. Sipping ginger ale and cranberry juice while reclining with a book became my new routine. Eventually I gained a bit more mental and physical energy and eased myself back into crafting. I started out simple with just some hand sewing. I'd been working on these starfish decorations in between other random projects for a while. It was very relaxing just sorting button and thread colors.
I then moved onto a fairly simple crochet project ("simple" because I didn't have the patience and energy to worry about counting stitches or working row patterns). My friend at work is expecting her first baby towards the end of October and I was really keen to make her a baby blanket. I already had a bunch of granny squares made-up and it turned out to be the perfect number for a baby-sized blanket. Prior to my surgery, I had the forethought to organize the layout of the squares and number each one, so that when it came to assembling them, it wouldn't take much mental power. I sat watching an assortment of borrowed dvds (the likes of "The Lakehouse", "Calendar Girls", "In Good Company", "Waking Ned Devine", etc) and attached granny square to granny square and row to row until I had completed a sweet little autumn baby blanket. More details on this particular project to follow.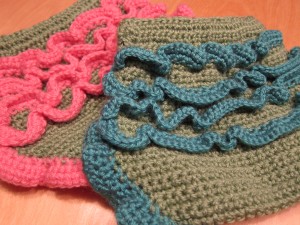 When I finally started to feel like I had the energy to try out a new crochet pattern, I turned to Tina Barrett's Natural Crochet for Babies & Toddlers. It was love at first sight with this book! For a super avid crafter, I don't buy a ton of craft books, not because I don't want to. Seriously, I would go crazy ordering craft books till every shelf in our house was filled and then some, if I could. Being on a tight budget though, I'm often inclined to spend my crafty funds on supplies rather than inspiration. However, Tina Barrett's crochet book was just too lovely to pass up. I borrowed it from the library originally just to flip through and when I realized I wanted to make every single pattern in the book, I ordered it. The first project I attempted from that book was the nappy pants. So very adorable! Although I wasn't able to make them out of fancy natural soya or cotton called for in the pattern, since I had to make do with my stash, I think they turned out pretty cute.
After finishing my first pair of nappy pants I started thinking about Christmas. I haven't a clue why, but I just started thinking about what to make people for Christmas and that led to thinking about how last year I never got a chance to try making crochet snowflake ornaments for our tree. I mentioned this to my mom and on one of her post-surgery visits she brought all of her old snowflake patterns gathered from magazines from the 80s, white crochet thread and the smallest crochet hook I'd ever seen. Between all of her patterns and ones I tracked down online, I kept busy working up snowflakes. I actually got pretty frustrated trying to make them and I had a hard time reading the patterns, but before I decided that maybe snowflake making was too advanced for me, I tried a pattern posted on Attic 24. Although the Lucy's pattern uses a DK weight yarn, and I used crochet thread, I loved the shape of the snowflake AND I was finally able to understand how these darn things worked up. So I simply added some more rounds and with my usual improvisation ended up with a nice little snowflake.
It was like a light bulb went on (or I guess in this case a glowing snowflake) and I eventually made these guys too.
From Christmas, my thoughts turned to Halloween. I know, that was sort of in the wrong order, but who can control one's crafty thoughts? After my adventures in snowflake making, I started thinking about decorations for Halloween. What could I crochet for Halloween? I liked the idea of making something similar to the snowflakes, that I could starch and hang, but with a Halloween theme. I poked around briefly online, but didn't find what I had in mind. So I figured I could make it up, after all I had just completed six snowflakes, how hard could it be? After some experimenting, it turned out to be a bit difficult, but not impossible and I managed to created these creepy little friends.
Phew! Well, I managed to complete quite a bit during my weeks of recovery. Definitely didn't waste the time off and all the lovely crafting kept my sanity!