Yeppers. Our little man turned 18 months old, a milestone I managed to miss sharing on here. Now Sam is over nineteen months. If only we could slow the weeks down a bit, I might catch up to everything, even him. Needless to say, Sam has changed immensely since I last wrote one of these posts. He went from crawling baby boy to running (and climbing) toddler. He firmly has a foot in the door of "little boy". Much less "baby" these days in all that he does.
And as my dear friend, Shauna, recently discussed on her blog, the task of capturing moments with these little people in our lives is a difficult one. Especially as they get older, go faster and engage us more. There are fewer and fewer photos taken of Sam these days, and more & more time just spent observing & playing first hand with him.
It feels impossible to share every detail of change with you (there really are too many in the past seven months). He's grown into his own personality, body, and mind. So I will just attempt to share some of the highlights: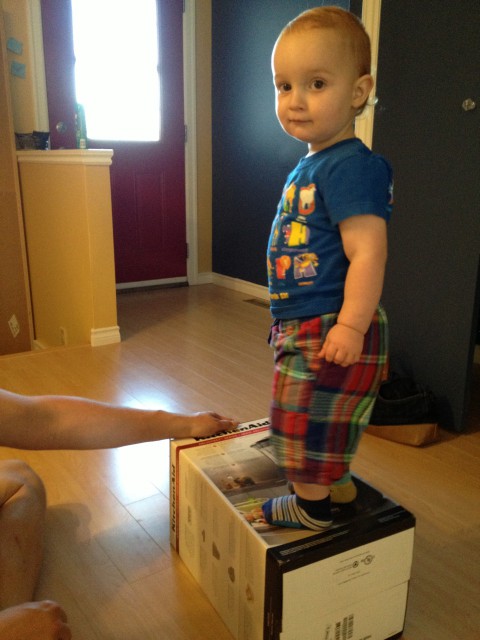 - He climbs. EVERYTHING. We started calling him "goat boy" a couple of months ago. What goes up, often falls down. He's taken quite a few big tumbles. We try to keep him safe, but there is only so much you can do when they love to climb like he does.

- And of course he is walking now, running most of the time. Tackling stairs like a big boy, holding a railing, wall or hand.


- Like most kids his age, he goes through stages with eating. One week, he'll be a bottomless pit for food. The next week, you struggle to get anything past his mouth. He feeds himself these days, using spoon & fork quite well. Current favourite foods include fruit smoothies with kale, kale chips, raisins, grapes, peaches, salami, homemade fruit leather, crispy rice bars, anything he can use as dip, homemade dried cherries, yogurt & grits. He's covered in homemade cherry jam in the above pic.


- Sam has lots of activities that he enjoys these days. He's quite fond of water, playing with the garden hose outside, splashing in the tub, and his newest favourite… playing in the kitchen sink. He often grabs his step stool and drags it over to the sink. That's your cue to bring the chair, a towel and toys. He is also spending a lot of time in the craft room, up on a chair so he can reach my counters, playing with stamps, stickers, coloured paper, washi tape, felts, etc. I love watching & helping him create!

- We're also learning that he wants to do anything that we are doing. He's a helper, like all kids his age probably. Which means, you have the opportunity to create fun learning experiences as you do simple things around the house, but it also means lots of tasks are difficult (nearly impossible) or frustrating to attempt when he is around. As a parent, I find that part a bit tiring some days, trying to find creative ways for him to safely be involved in all the things we do. There are lots of frustrating moments for Sam, when he can't "help" us with something. Plenty of tears. All we can do is try our best to include them where possible, right? Even if it means a task takes five times longer. It's that or tackle it when they are sleeping.


- Sam's grandparents have started spending more regularly scheduled time with him. Grandma Judy comes in one morning a week from Banff. My parents take Sam to their house (or the cabin) every Thursday. It has meant some much needed sewing is finally getting done on my part. And Sam has a blast with his grandparents. What more could a child want, than complete and undivided attention (and treats)?!

- Our little man still adores books and story time. The types of books he enjoys has changed a bit lately, though. He likes when you read a story, but he mostly loves pointing at everything on the page and getting you to name it. We've started collecting more "baby's first words" type books. Anything with animals is sure to captivate him! We also discovered these Caillou Look and Find books (kinda like Where's Waldo, but more simplified). It is amazing to see Sam find things in each picture, without prompting or help!


- Oh and the personality!! It's crazy to think what he was like this time last year. These days, he is quickly showing his mischievous side, his silly side, his lovely side, his wild side… so many different sides! And then there is the trying to express himself, not just with facial expressions, but gesturing & speaking. I swear he learns a new word every day. We've definitely hit a big development stage in the past two weeks. Between the crazy increase in energy, difficulty sleeping, and his constant desire to communicate through words. It's no wonder these kids get frustrated and break down when we don't understand them. The majority of tears shed these days are either because we don't understand what he's trying to say or do, or because of an injury. In times of miscommunication, we've started just calming asking him what he wants or saying "show me", letting him lead you by the hand or carry him in the directions he points. You can usually discern what he wants pretty quickly.

- Most used day-to-day words include: more, bye-bye (sounds like die-die), snack (sounds like nack), night-night (sounds like nigh-nigh), done, empty (sounds like emp), ouchie, poop, stuck, up, no, mama, dada, meow-meow, out, and on & on.
- Besides his growing vocabulary, what really gets me, is just how much he understands. Even if he can't speak in sentences, he can fully understand them. If you tell him that you're going downstairs to feed the Chloe, he knows that means he needs to go to the cupboard & get her food. If you ask him if he wants to go into the sewing room to play, he's half way down the hall in a blink of an eye, waiting for you to catch up. You can ask him to bring you particular books or hand you an item from the bath tub. Just astonishing how much he comprehends now!!
- He is still in diapers. No plan to potty train right now. He still sleeps in a crib (with his beloved blankie). He gets a fruit smoothie first thing in the morning and a bath in the evening right before bed, every day. We're still trying to get outside time each day. Venturing to the park is quickly becoming part of the routine.
- We're trying to cut back on "screen time" (he got in the habit of watching quite a bit of kids shows during the months of kitchen renos while we attempted to distract him from all the hazards around the house). I fully admit that a bit of screen time has its uses. It can be a useful tool. But we are definitely conscious of just how much he is getting. These days, Sam is watching Caillou, Wonder Pets, Guess with Jess, Pound Puppies (all on Netflix so no crappy commercials for him to absorb) and the How to Train Your Dragon movie (which he simply adores).
And that is our little man in a nutshell. I could go on and on. Right now, several more things have popped into my mind to share, but I'm going to end it here. I'll try my best to share a bit more regularly, with a few less months in between posts. I have a feeling that his crazy, fast-paced, development stage is just starting. We're in for quite the ride as we approach 24 months!