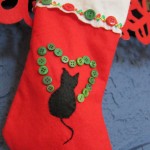 Now that the gift-opening flurry is mostly complete (we have a couple of stragglers still in Europe that have presents waiting their return), I can share some of the things that got made up this year. The most important of course, was that our kitty Chloe was graced with a Christmas stocking. It's not like she's a new addition to our family, but for some reason we generally overlook her at Christmas. My mom, never fails, gives Chloe a Christmas gift. We, on the other hand, are rarely in our own home Christmas morning and thus, don't get to open gifts with Chloe too often. This year I was determined to include her. I cheated a bit by purchasing a plain ready-made stocking from the craft store because the first chance I had to work on it was on the 24th. Cutting it close, but it did get nicely decorated, if I do say so myself. Just a bit of felt, some buttons, and embroidery thread. Voila!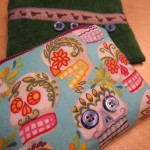 I had a very special request for these coin purses from my sis-in-law. I made her a coin purse out of that sugar skull fabric a few years ago and she has loved it into the ground. So I was happy to make up a replacement one for her. There's still a bunch of that fabric kicking around which I fully intend to make into a sassy apron one day… one day. My sis-in-law also recently discovered that her Canon Powershot S90 fits perfectly into my coin purses. So a second one was sewn up for use as a camera cozy. That's the same camera that I use, by the way (for those curious what my blog photos are taken with).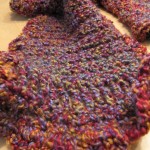 There were two crochet projects undertaken for Christmas gifts this year. One is still in progress. Yes, I realize that Christmas has passed, but like I said, there are a couple of folks in Europe who won't be back until the New Year, so that's a whole extra week of crafting. That project is still under wraps, but I can share the second crochet item with you. It was a scarf for my mom. The pattern is just something out of my head. Not too complicated. Some single crochet, some treble crochet, and some scalloped edging that I winged. It's nice and long. I was worried that I had made it too long by the time I was finishing it up, but I was told by a couple people that a scarf can never be too long. Especially, here in Canada. Anyway, it should keep her nice and warm. It's made out of some Lionbrand Homespun yarn.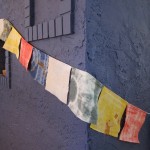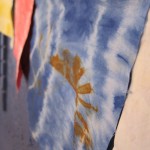 The last bit of Christmas gift making were sets of hand-dyed prayer flags. I spent one Saturday dying fabrics in the basement (just with that cold water dye stuff). I used various bits of fabric that I had stashed in the sewing room, including some cotton that I had previous rusted. Those pieces ended up being some of my favourite out of the whole project. I have a stack left over too, which I can either make into a strand for us to hang or I could sew up some coin purses.
I feel like there's a lot to catch you all up on. Big boxes of new yarn, the death of my herb garden, and book reviews. Oh, and I celebrated the big 3-0 yesterday. Must do more blogging.
Hoping that you had a lovely Christmas and are recovering from the sugar-overload!