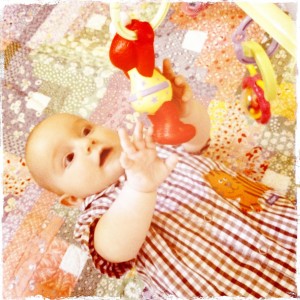 Yes. Seriously. Baby boy is now five months old!! Where has all this time gone to? Well, we're certainly keeping busy these days and Sam continues to keep us on our toes, never certain where things are going.
He's got to be about 18 pounds now. A month ago he weighed in at 16lbs, 10 oz which meant he was still gaining about 2lbs a month. That has hopefully slowed a bit. We'll find out Thursday where he's at when we head to a doctor's appointment. He's a big baby, I can't deny that, and I'm getting pretty used to it. I'm more curious to see how tall he is now. Feels like he has grown more in length this past month. The last batch of sleepers I picked up didn't last long at all! And we don't have too many more left in the larger sizes. Here's hoping we get some hot weather and I can just let him sleep in a onesie. That or we'll be forced to head to Sproutz for a little shopping trip.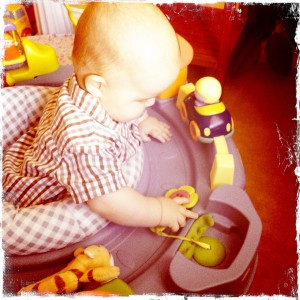 One can't talk about this baby's growth without talking about his food source, which has solely become me. We went from being able to give Sam the occassional bottle, even some formula, to having him flat out refuse anything but his mama. I had been so looking forward to getting a few breaks here and there and more date nights with hubby, but then baby boy threw us this curve ball. One minute he was fine with the bottle, the next minute he decided that we were trying to kill him with it. We tried lots of different things, even tried to get him to drink from a sippy cup, but nothing has worked so far. Once a week, we give it a try again, hoping that he has changed his mind. We have managed to get him to drink about 1oz of pumped milk from the sippy cup (it took about half an hour), but that's it. It has been the source of some stress, but I keep reminding myself that in just another month we will begin introducing him to soft food. The change won't come over night, but eventually, I won't be his only food source.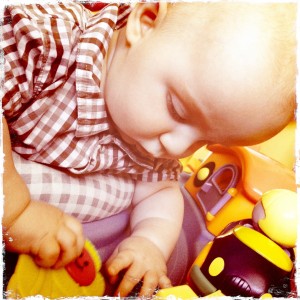 Speaking of nursing. Wow, I never could have imagined that babies could get so distracted from nursing! It makes sense. They're taking in so much of the world around them, it's hard to turn off that interest, even when they're hungry. Sometimes even just having hubby sitting beside us on the couch is enough to distract Sam. He's just so happy to observe everything. Sam has also started showing his complete joy of nursing more and more. He's obviously always love it, but now he laughs and smiles and giggles sometimes. It's just a hoot!
Another big adjustment this past month and one that feels like a bit of a step backwards has been his sleep cycle. Sam had been sleeping amazingly well at night, 7-9 hours straight. Then out of the blue, he began waking up crying every night about an hour after we'd put him in his crib. Then it he'd wake again later in the night or wee hours of the morning and need to be fed. The worse night came when he woke almost every hour! The longest window of sleep was just two hours! Needless to say, Sam and I were both pooped & grumpy the next day. Silly boy! You need your sleep (and so does mama)! Not sure what all this is about. Teething? Sleep regression? A growth spurt (oh gosh I hope not)? Our nights are still unpredictable for now. Sometimes he sleeps pretty decently, others not so much. We'll see how this all goes in the coming weeks. At the very least I can count on Sam to take a nap after he wakes at 5am or 6am, so we get to catch a few more Zzzs (very helpful if we've been up a few times in the night).
I think the most fun thing this past month has been Sam's new discovery of toys. Yes, toys! He has always had the occassional toy to play with, a couple of favorite rattles, some small stuffies, his blankie. But we were very blessed by friends and neighbors who brought us several gently used toys at just the perfect time. My friend Joanna brought her son's ExerSaucer over for us to borrow for a few months. At first it seemed a bit too big for Sam to play in, but he is quickly growing into it. He can even spin himself around (with some work) to get to all the different toys and he definitely has a favorite item he likes to play with on it. You could say he's "slightly" obsessed with the green flower. A neighbor down the street who was moving, gave us a few toys that her boys had outgrown. Sam now has one of those baby gyms with the toys dangling from it that baby lays underneath. It is Sesame Street themed with a cute little Elmo hanging from it, which Sam enjoys. He can spend a good chunk of time playing with it and I even discovered that I can squeeze it into out teeny-tiny bathroom for him to be entertained while I shower. Yay, for being able to shower without relying on hubby being home! How freeing! The other new toy for Sam is his Sophie the Giraffe. I wasn't too sure about getting him one because everyone else seemed to have the things & I really didn't understand the appeal. But now I get it. He does enjoy his Sophie and it's an easy thing to throw into the diaper bag as a toy while we're out & about.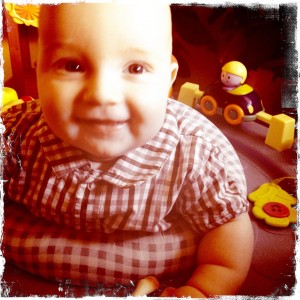 Let's see, what else is there? Oh he finally managed to get his foot in his mouth, all by himself (something he has been working on for some time). He has had quite the foot obsession and it was pretty exciting when he finally got to suck his toes for the first time! See how simple some of life's joys can be!
The next month or two is sure to hold some very interesting changes with all the hints this boy seems to be dropping. There will likely be soft food, jolly jumpers, and more rolling. And also a frustrated baby who wants to walk before he can even crawl. Oh boy!