Oh yes, it's time to talk about Pinterest again! A few weeks ago, I attended another Pinterest party. This time around, the theme was "babies & kids". A very appropriate theme considering the number of new babies and pregnant women in my circle of friends and their friends. Drinks and snacks were all Pinterest inspired recipes and each gal brought a craft project to work on related to the theme.
Wouldn't you know that, this time around, I didn't get any pictures of the project I brought along to the party. It's all done now and I'll snap some photos of it soon. Instead here is a look at what the other gals were working on.
Our host Jan is expecting her first baby this spring. She was hard at work making an assortment of hair accessories for the little girl they will be welcoming into the world. She's been busy pinning away lots of different flower making tutorials on her DIY Inspiration and Tutorials board. Jan made clips covered in various ribbons and felt & fabric flowers. My fav is the beautiful flower made of lace from her wedding gown. Such an awesome idea for something to pass down to a daughter!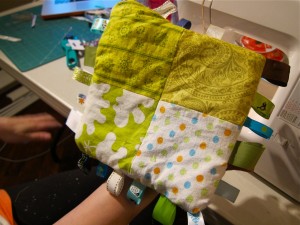 My friend Shauna brought along her sewing machine and took on the task of making a tag ribbon blanket. It's something that she's been wanting to attempt for a while. A good starter project, as she gets back into sewing. I think Shauna might have used this tutorial on Melissa Sews. Or you can check out the list I compiled of various tag blanket tutorials in a post a while ago. Shauna's tag blanket turned out awesome! Love the green fabrics she chose.
Rahimay spent the evening making closet organizers for her nursery. A great way to keep all those baby sleepers organized by size, so you don't miss using anything before baby grows out of it. There are lots of tutorials out there for making these closet dividers, if you're interested, including this one from Smile Steady. Instead of wood, Rahimay used foam core as the base for her dividers and she also played around with attaching ribbon along the edges. She is sure to have a super organized & cute closet when baby arrives!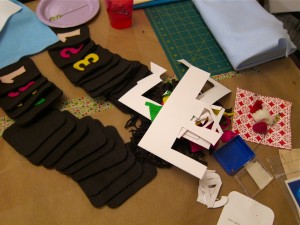 Allison worked on flash cards made from felt, which will also double as cards for a memory game. Again there are lots of different tutorials out there for this and there are some great sets available for sale on Etsy too. As Allison discovered, hand cutting all the numbers is pretty tedious, but I'm sure the end result will be well worth it!
And that was our super-duper crafty evening! So satisfying to spend a chunk of time crafting, after having to put that on the back burner with the arrival of Sam. It was also my first night out without baby! Perfect little break! Thanks gals!