Back in September of 2010, I began writing on this blog. The first post (actually the first three) was health-related, documenting my journey & struggle with uterine fibroids and surgery that resulted. It was, in fact, during my seven weeks off of work to recover from surgery, that the desire to start Bubblegum Sass took root. Not just Bubblegum Sass, the blog, but the business. There is something about being forced to slow down, almost to a full stop, that makes you examine, take stock, and re-envision things.
And so, the blog began. The business followed later. The adventure wrapping through three years of challenges, many milestones, an abundance of creativity, and a steady flow of buttons. There has been lots of inspiration enjoyed & shared, lessons learned, and mistakes made.
I've been ever so lucky to have you following along as I trot down this path of "sassy crafter". It has always felt good to have this space to chat about projects, experiences, and daydreams. As life keeps evolving, so does this blog. I thank you, for reading each post & offering your encouraging words.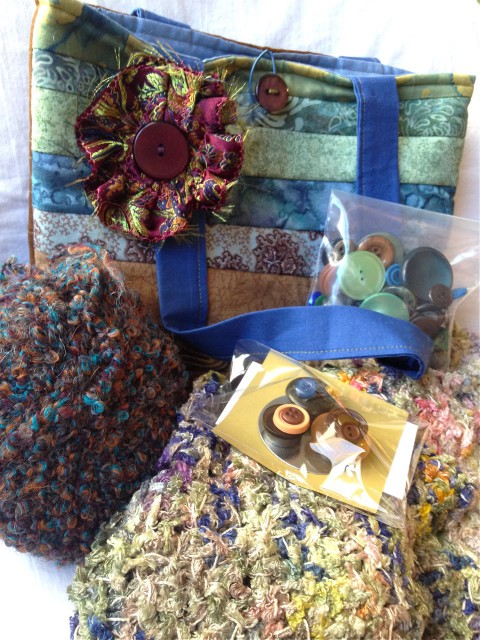 A third blogoversary seems like a good reason to have a GIVEAWAY! What's up for grabs? A one-of-a-kind quilted striped purse AND a scrap silk brocade brooch AND a set of three button magnets, all made by little 'ol me. I've also thrown in two balls of lovely Alpaca Boucle Luxury Indiecita yarn (alpaca/nylon blend) in perfect autumn colours. No time to make something new right? Well, then good thing I've also included a finished hand knit scarf made from Colinette Isis by my lovely mother-in-law Judy (remember all her yarn and her Jen By The Fjord yarn shop?). Lastly, what Bubblegum Sass giveaway would be complete without a little bag of buttons?! Pretty sweet bunch of items, if you ask me.
Entering this giveaway is easy-peasy, all you have to do is leave a comment on this post indicating your ultimate favourite colour or colour combo. Comments will be closed on Thursday, Sept. 5 by 8pm MST. A winner will be drawn and announced on Friday, Sept. 6th. Feel free to spread the word to all your crafty friends!
Good luck to everyone!
****CONTEST CLOSED****
Drum roll please… the winner is MELISSA!! Congrats Melissa! I know you'll enjoy ALL these goodies. And thank you to everyone who took a moment to participate! You've given me some good colour suggestions for future product. Personally, I adore anything turquoise/aqua blue. I'm also a sucker for plum purple and pumpkin orange. Nothing says cozy autumn comfort more than those two colours together. Looking forward to keeping your preferences in mind as I keep sewing up cuff bracelets and collar necklaces! Thanks again!