We had a nice 1st birthday party for Sam with friends and family. Nothing too complicated or over-the-top. Food, drink, presents, cake, playtime for the kids, & chatting for the adults. We did organize a time capsule and asked attendees to participate in that, but that deserves its own post really.
Just thought I'd share some of the decorations I whipped up the week of his birthday, mostly done during his nap times. I based the colour "theme" on his fav blankie and focused on decorating the fireplace mantle (since it's such a great place for displays).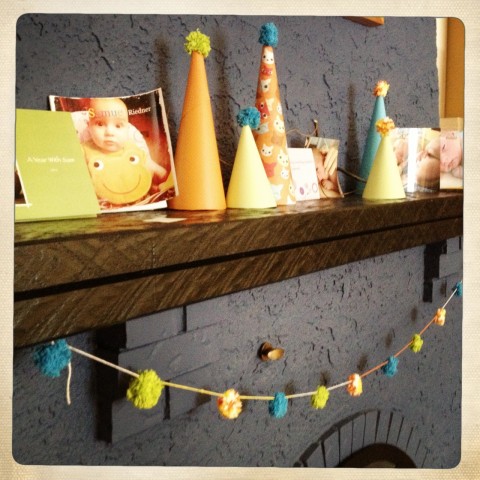 I really got into making yarn pom poms, a first for me. Pinterest is full of DIY mini pom pom tutorials (not sure exactly which one I used, actually). Basically you just wind yarn around the tongs of a folks, wrap a tie around the bundle and snip all the loops open with small sharp scissors (FIY- a pair of small sharp scissors is key). I glue a bunch of pom poms onto a strand of yarn to make a garland: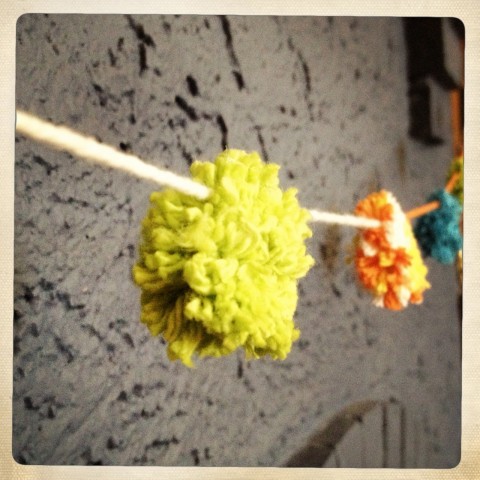 Next, I used a variety of scrapbook paper to make different sized party "hats" (for decoration, not for wear… although you could easily attach an elastic to make them wearable). I glued a pom pom onto the top of each (note the kitty cat printed paper for my baby boy who is obsessed with cats):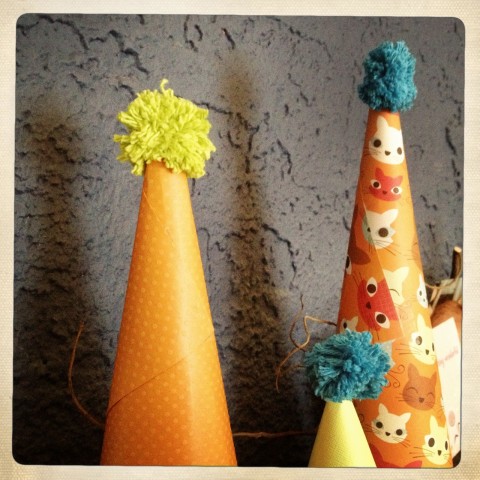 Also on the mantle, were Sam's photo books. We have quite a collection now from various stages of his first year, mostly thanks to my dad who is amazing & diligent at putting those together & getting them printed. Thanks, dad!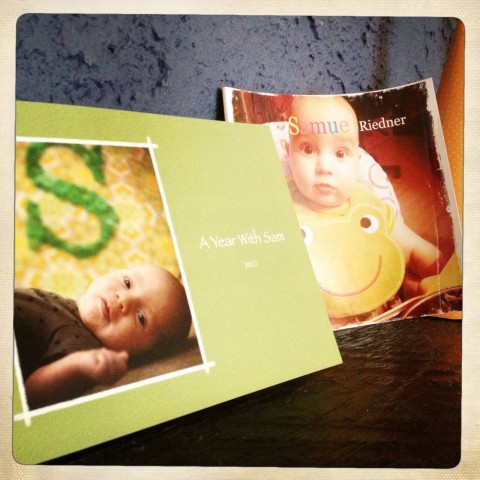 Lastly, I put together a fabric mobile to hang from the lights in the kitchen over the island (where we served up the food). It's not the most beautiful thing I've made, but it worked.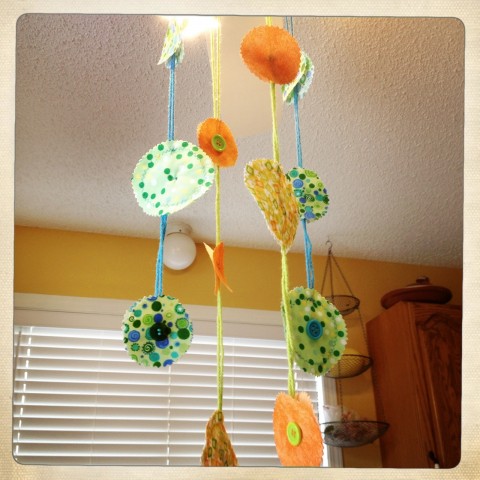 Here's what his cake looked like. Nothing fancy, but tasty. I loved the cakes my mom made for us as kids for our birthdays and I was determined to make Sam a cake. Ended up just using a box mix, but it was colourful & tasty. The cake topper was purchased from Nova Natural toys. They have a ton of adorable toys! I purchased the full birthday ring, so as the years go by, we can add more ornaments to the topper. We chose a mini stacking ring to represent year one.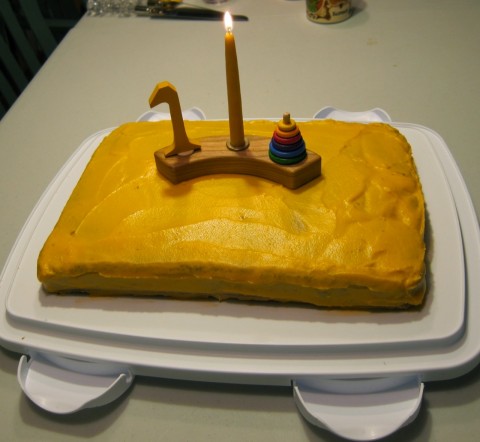 Someone thoroughly enjoyed their birthday cake, which is what matters most in the end. Happy birthday my sweet baby boy!