Here we are again, recapping another month. It's getting more & more difficult remembering what life was like before Sam came onto the scene. Which either means we're enjoying his company so much, we'd never look back or, that Sam keeps us so busy we don't have a chance to look back. Whatever the case may be, we're loving being parents to this little man.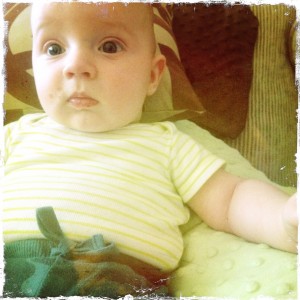 I don't know how much Sam weighs now and not sure I really want to know. My big baby boy! He's healthy and thriving, still eating lots and covered in adorable rolls. The only change in his feeding is that we have introduced a bit of formula to him. This mama was feeling trapped too much and needed the reassurance that, if I did go out for awhile there would be plenty of food available for Sam. I've never been able to pump a whole lot or consistently, so we finally decided that a bottle of formula on occasion would relieve some of the stress. It has meant that I have been able to enjoy a night out at the ballet, and hubby & I even had a date night! Thanks to my wonderful parents for letting us have an evening off!
Sam has had two big physical developments this past month. First off, he's been really kean on sitting up. He can hold his head up well (when he's not tired) and gets frustrated if you lay him on his back too much. He enjoys being pulled up into a sitting position, which gives him the best view of his feet. Ah, yes, Sam is currently obsessed with his feet and seems quite fascinated with them. Anyway, as for sitting, we borrowed a Bumbo from our friends and he spends a bit of time in it. We also use my nursing pillow to prop him up on the couch to sit with us. His neck is getting stronger every day!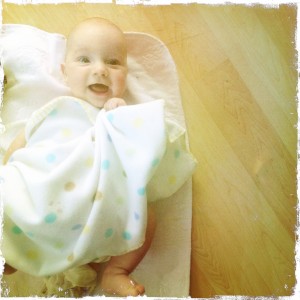 The second big physical development came when Sam managed to start rolling from his tummy onto his back. He just surprised me (and himself) one day during some naked floor time. One minute he was on his tummy, the next he was lying on his back. Since then he's really started to do that roll well (even fully clothed). Still not much action with the back-to-tummy roll. He has managed to do it a couple times, but seems less interested in developing that roll at the moment.
Two words stand out the past couple weeks. Naked time. Yep, Sam loves being stripped down. Putting clothes on him has gotten more & more difficult (you'd think the poor kids was being tortured!) and diaper change time has become a time of excitement because he gets a bit of freedom. After a challenging day, with pee and poop accidents every time I turned around, I finally gave up, stripped off Sam's clothes and laid him down on a soft waterproof pad on the floor of the nursery (with a soft fleece blanket to cuddle with). I let him entertain himself while I cleaned up the latest mess. There was so much giggling and squeals of delight, that he now gets daily naked time! And he loves tummy time while he's naked! Plus, I get to admire his sweet dimply bum, that I see so very little of. I am really looking forward to warmer weather when Sam can wear fewer clothes (or even just his diaper) and his cute toes can come out to play more often.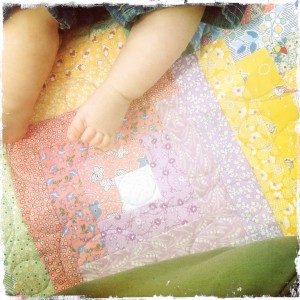 Sam is getting lots of story time these days. This shouldn't come as a surprise to those of you who know us well. We're bookworms and reading will likely always have a place in Sam's life. He enjoys looking at colourful pictures with lots of contrast and is starting to show interest in touching the books and grabbing pages (especially board books). We have a small collection of kids books which is sure to grow as the months & years go by, but Sam and I have also started going to the library once a week for books. He'd be happy to have me read the same books over & over again (which we do), but I need to keep things interesting for myself. The library is becoming a place of great discovery, so many books and authors to check out. I came across one book tht I actually bought our own copy of called "The Game of Mix-Up Art" by Herve Tullet. There aren't any words to the book, but it's filled with the exact type of images that Sam loves best.
Story time, by the way, is generally done while laying on Sam's baby quilt. His grandma Janice finished it up a few weeks ago. I hope to have a post about it soon with more photos to share, but for now you get a little peek of it beneath those adorable baby toes.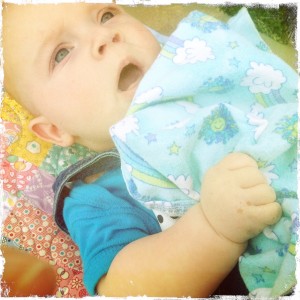 One adjustment that I've had to make is getting used to Sam being awake more when we go out. He no longer sleeps as much in his stroller. Those big beautiful eyes of his are kean to take in the world. So I started having to carrying him around more while shopping or at the zoo, because he didn't want to be awake and away from his mama's arms (such a suck & I love it). We recently made an awesome purchase though, which will help me deal with carrying Sam, while freeing up both my hands… a BabyHawk! So far, so good. It has made walking enjoyable again and I'm sure it will get lots of use out & about and even in the sewing room.
Guess what? Our baby boy has a blankie. Sam loves his blankie (aka flannette burp cloth), particularly the aqua print with clouds & rainbows (seen in the above photo). He holds onto it in his car seat, while lying on the floor, being carried around the house, sitting on the couch… he always has his blankie. We've tried giving him a satin toy to suck on. He seemed to think it was alright, but nothing like his blankie. And so there he sits or lays sucking on his blankie and fidgeting with its softness in his hands. Oh the things Sam has discovered and grown to love! It so intriguing to watch! Here comes another month of fun!
(Sam is sharing his four month birthday with what would have been my oldest brother's 41st birthday today. My brother was quite lucky to have reached his 40th birthday last year, a milestone that many of us didn't think he'd ever see. But it is now a sad day to have come and go. May 12. Forever my brother's birthday, no matter where he is now. Like so many say, "gone but not forgotten". Never forgotten. Happy Birthday, bro.)