(A little overdue, but finally finished writing this!)
A Birth Story
January 12, 2012, 4am
We woke at the unbelievably early hour of 4am. Took showers, got dressed and packed a few last things to bring to the hospital. Bundled ourselves up to leave the house, only to discover that it was freakishly warm out (I'm certainly glad I was overdressed though, because I needed all that warm clothing the day we brought Sam home, which turned out to be one of the coldest days of the winter). We arrived at the hospital a bit before 5:30am.
Check-in went quickly and before I knew it, I was in a gown and laying on a hospital bed while a nurse attempted to set-up the fetal monitoring bands. I say "attempted" because our little Sam was not very cooperative. Our obstetrician always had difficulty trying to listen for his heat rate because he was such a busy baby, constantly on the move. The nurse at the hospital spent half an hour or more trying to place the monitor and then finally had to seek the help of a senior nurse. In the end they managed to monitor his movements and heart rate for the required 20 minutes, after breaking a bit of a sweat and chasing that baby around in my belly.
We were informed that we were scheduled for slot two of the day and would be headed to surgery around 10am, which was a little disappointing because our paperwork said we would be in slot one and that was the slotted time my own obstetrician would be doing the procedure. We figured we were being bumped for an emergency c-section, so there's not much you can complain about. I got comfy on the hospital bed and took a nap, settling in for the wait. But half an hour later, the nurse returned to say that their slot one patient was a no-show and that she would be taking me to labor & delivery in a few minutes. Definitely felt like I was being watched over by the Big Man himself. Getting slot one meant my obstetrician would be there and it was truly a blessing that it was him performing the c-section, given my history with fibroids (and the previous surgery he had performed on me).
Marcus was shown the room where he could put on scrubs and then we were shown to a couple of chairs just outside the surgical suite. So there we were finally, after nine months of waiting, on the verge of getting to meet our little baby. Oh, the anticipation was so crazy! I felt like I couldn't wait a moment longer to find out if we were having a boy or a girl! But wait we did, while the anesthesiologist introduced herself and various hospital procedures were carried out.
8:30am
I was brought into the surgical suite and the anesthesiologist quickly placed the spinal block. I'd actually been quite nervous about having that done. Anything to do with needles in the spine creeps me right out. But really it went by so quickly that I didn't have much time to register the bit of pain I felt. Within seconds my blood pressure dropped like a rock. I just had enough time to lay down on the table before I felt like I was going to black out. Thankfully this is normal and part of what the anesthesiologist monitors and corrects throughout the procedure.
My hubby was brought in just as I was being strapped down and the blue curtain was going up over my chest to keep us from seeing the more gory parts of the c-section. From there things seemed to move quickly and I thought that we were probably only moments away from meeting our little babe.
As more minutes past, I began to get more nervous. Even the anesthesiologist peered over the drape to see what was going on. That was about when I heard my doctor tell one of the nurses to call another surgeon into the room stat. My doctor quickly peeked over the drape to tell us that they were having difficulties getting to the baby. My fibroid was right in the spot where there needed to make the incision ino the uterus. They would now have to do a classical Caesarean (vertical incision) in order to get the baby out, leaving me with a T-incision (inverted T) to heal. I was pretty scared at this point and also discouraged knowing that the additional incisions would greatly increase my recovery time and present more possible complications.
The second surgeon arrived quickly and she and my doctor began working intensively to deliver the baby. I simply can not describe the sensation of your entire body beginning yank and pushed around, and yet not being able to feel any pain, when you know that you should. Hubby looked a bit frightened at how much I was being jostled around and we both nervously listened to my doctor labour away to get the baby out. Again the anesthesiologist peered over the curtain to assess the situation. Another large fibroid had been found on the upper part of the uterus and it too was in the way of getting baby out.
After much more pulling and yanking, I finally reached the point where I was going to throw up. While a nurse helped me with that, all I could faintly hear was the words, "it's a boy". He was out and softly crying! Praise the Lord! Hubby was brought over to our baby boy, while they assessed & measured him. Then they brought him over to me to look at while the doctors completed the procedure.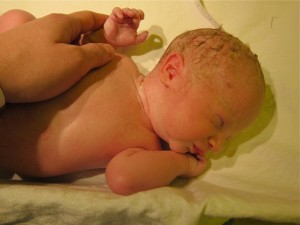 He smelled so wonderful! All I wanted to do was wrap him up tightly in my arms. Hubby continued to hold him right up to my face, while the c-section was finished. The additional incisions increased the time to get all stitched backed up, but eventually they lowered the blue drape. By this time was already starting to regain feeling in my feet and began getting very, very cold. I started shivering like crazy due to all the blood loss.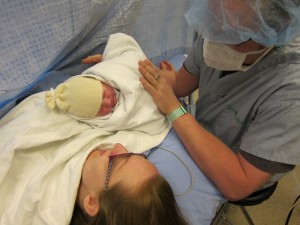 10:00am
I was wheeled into a small recovery room with two nurses, while hubby followed behind with baby. The nurses worked on cleaning and dressing my incisions, while I stared longingly at baby, still shivering. As soon as they were done, they put a bear hugger on me to warm me up (like a full body blanket that is inflated with hot air). It felt soooo good! And eventually the shivering subsided.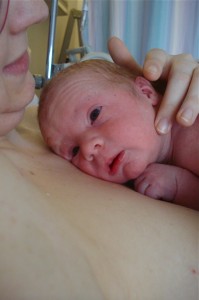 11:00am
After about an hour in recovery, I was moved to our postpartum room again with hubby and baby following behind. Once I was transferred to my hospital bed and settle in, hubby and baby came in and I was finally able to hold him! It was wonderful to finally touch him and I snuggled him closely on my chest. Our doula arrived quickly, just in time for our first attempt at breastfeeding.
From there the day is a blur. My parents and hubby's mom came to meet the baby, nurses popped in & out frequently, there was lots of tummy time with baby and some napping. The following few days were pretty much the same. We stayed three nights in the hospital and by then, I was anxious to get home.
And that is the story of how little Samuel Ian Helmut Riedner came into the world. Thanks for reading along. I think it will be nice to have this written down to look back on years from now.