A double craft fair weekend calls for a double Keyword Story feature! Enjoy!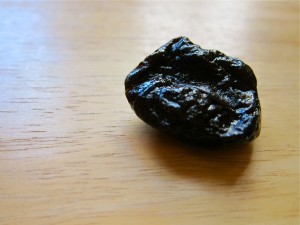 Prune
One
Sweet flavor
Dried fruit
Wrinkled
Simplicity
Close-up
Indoors
Still life
Nobody
Woodgrain
Ingredient
Copy space
Spicy Pork with Prunes
4-6 boneless pork chops
Juice of 2-3 limes
5 garlic cloves, chopped
3-4 tbsp mild chili powder
2 tbsp vegetable oil
1 onion, chopped
1 1/2 – 2 cups chicken stock
1 small can diced tomatoes
15 prunes, pitted
15 dried apricots
1-2 tsp sugar
pinch of ground cinnamon
pinch of ground allspice
pinch of ground cumin
Combine lime juice, garlic, chili powder and half the oil in bowl. Set aside.
Heat remaining oil in skillet, and brown pork. Add onions, lime juice mixture, stock and remaining ingredients. Bring to boil. Reduce heat to a simmer; cover and cook until pork is done.
To serve, spoon sauce with prunes and apricots over pork chops.

Recipe altered from "Mexican Recipes" by Marlena Spieler.