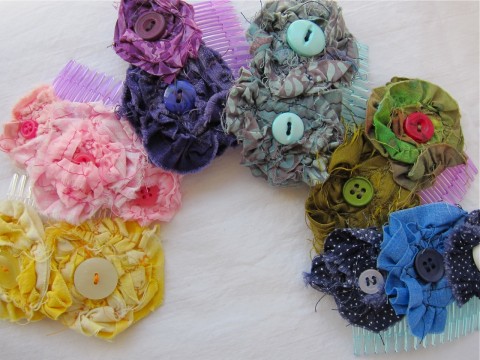 In my effort to purge, clean, and organize everything (from house to online shop), I FINALLY got around to listing a whole pile of "new" product. In all honesty, I made these beauties well over a year ago (almost two, really). They journeyed to a couple of small shows, but then ended up being tucked away in a cupboard, waiting for their time to shine.
That time, apparently, is now! Out with the old, in with the "new-ish". I've been a bit of a busy bee photographing & listing all of these (35 in total with more to come down the road). It is my pleasure to officially introduce them to the shop and my lovely followers AND include them in the last of this month's sales!!
From now until Sunday, March 24, you can snag a button hair clip or comb at 50% off! Oh boy! I'm really keen for folks to give them a try! I made my first scrap floral hair comb a few years ago to wear to my brother's wedding. Loved how easy they were to wear & how they dressed up the simplest hair-dos!
The button hair clips come from that warm, fuzzy place in my heart where I keep my absolute love of buttons. Simple, cute, modern, and colorful. Did I mention the FREE shipping for the button hair clips within Canada? That's a little bonus. Both the clips and combs are perfect for spring!
Thanks to everyone who has supported the Spring Cleaning Sale so far!! Excited to share other new products with you in the coming months (which means I should get back to the sewing room and fire-up the creative juices).