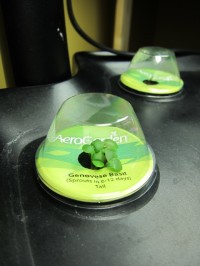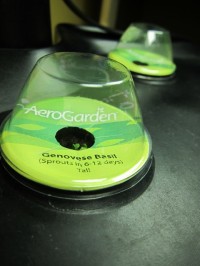 In the fall, I shared my adventures of trying to start a herb garden, which failed twice. The second time, I discovered that there were all sorts of little flies living and breeding in the soil, flying all around the house. So before those pests could damage any of our other plants, I dumped the whole garden outside. With quite the "humph" and feeling fairly discouraged, I gave up on the herb garden for a while.
My lovely sister-in-law passed along her AeroGarden unit to try out. I'd seen the success she'd had with it, and so finally about a week and half ago, I got it all set up. Things sprouted within three days! Which is kinda crazy. Shows what some grow lights and plant food will do to help the process! Now we have small leafy bits. The dome covers have been removed and all the various herbs have sprouted. There are a couple of basil plants, a thyme, a mint, an oregano and a dill plant. So far, so good. We'll see how things continue to progress.
Any gardeners out there start their seed prep yet? Hubby is trying to get some tomato seeds going inside. We hope to grow some in big pots on the back deck this summer, along with the wonderful veggie garden he has planned out. Such a green thumb! I want to be, but just don't seem to have the same touch.