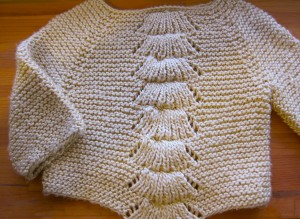 Our baby Sam is pretty much the luckiest little boy in the world. Not only does he have a super crafty mamma (toot-my-own-horn), but he also has TWO talented, crafty grandmas! TWO!! Seriously lucky little boy!
This gorgeous sweater was made by grandma J (Judy, that is… wouldn't you know that both his grandma's names begin with J). I put a request in for this sweater quite a while ago. Fell in love with the pattern, but since I'm not a knitter, I turned to Judy, and she eagerly agreed.
The pattern is from Quince&Co, called Camilla Babe. Isn't that shell stitch/pattern in the front lovely? Also adore the raglan sleeves. Judy used some luscious silk blend yarn, which makes it so soft and cozy. It's still a bit big for Sam to wear right now, but I think it will be perfect for later in the spring. Just need to pair it with some scrappy fabric pants made by mamma and he'll have the perfect handmade outfit!