We got back from our road trip to Colorado last week and I thought I would share a few of my sweet button finds. Oh yes, even on vacation, my eyes & mind drift to buttons! First up a unique pair of earrings. Love the fact that they aren't identical. I think it would be fun to try making some of these (you know, one day, in between all the other crafts waiting to be completed).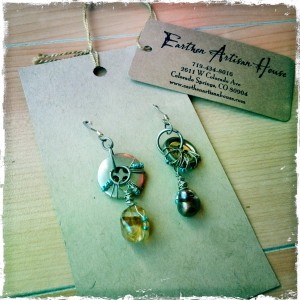 My second find, a couple of cute button printed fabrics. I decided a while ago to start collecting button themed fabrics. There's a lot of them out there, actually! Here's my first two. Not exactly sure what I'm going to make with them. Maybe a fun crazy quilt wall hanging?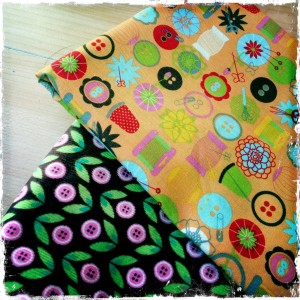 And here's my third find, a fun re-usable shopping bag from Jo-Ann Fabrics. Spotted it on the way out and couldn't resist the cuteness. Oh yes, I assure you, that bag was filled with a hefty stack of fabrics. Lots of potential projects to come!