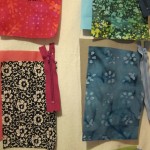 I took a break from the crochet craziness and sat myself down in front of the sewing machine for the first time in months. Along with the scarflettes, I've been anxious to make some other items to sell at the upcoming craft sale, including small fabric coin purses. Once I had all the fabric cut out, the first couple of hours of sewing were pretty frustrating. I don't know if you've ever experienced that before with a particular craft, where the longer you spend away from it, the more challenging it is to get back into a good swing. Honestly, though, once I pushed through those first couple of hours, it was really liberating. I almost forgot how much I love sewing! For shame! I've spent so much of my crafty time this past year on crochet projects, which are lovely, but there's just been something missing.
This weekend was just so satisfying! I have five coin purses complete, 6 more in progress, and enough fabric cut out to start another five. AND I didn't have to buy any supplies to make them up, which means I am either super resourceful or my sewing stash is getting a bit too big. Or it maybe my stash is JUST big enough to sustain all my crafty activities now. Ya, that must be it. Always looking to justify having such a stash of fabric and bits and pieces.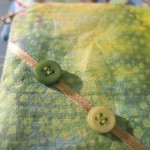 These coin purses are a design I made up several years ago for a church craft sale I donated to. I have since made some for gifts and folks seems to enjoy them, so I thought it would be worth it to have some available for the craft sale. They are the perfect size to fit credit/debit cards. I have one in my tote bag to hold my lip gloss, mini hand cream, and bandages (Mrs. Always Prepared). I've added some small button embellishments to these newest ones and I'm loving that! Anyone who knows me, knows about my love affair with buttons. Previously, I added fabric yo-yos, which worked out well, but I thought I would try something new this time. Without consciously doing it, I've also made the coin purses in a such a rainbow of colours! It nicely mirrors the colours of the scarflettes. Feels like things are starting to come together!