Confession: Our backyard is a sea of dandelions.
They've taken over any area that we left as lawn. In past years, we tried pulling, mowing, even spraying them with vinegar (we refuse to spray any chemicals). This year, I've given up and I'm treating them like just another crop to harvest.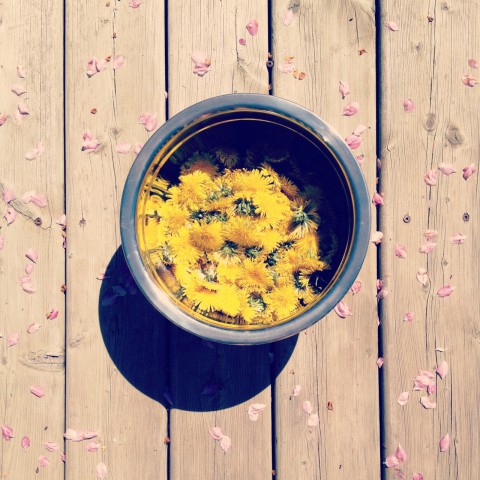 Here's some tips I've found handy so far:
If using the greens, harvest fresh or no more than a day before. They keep in the fridge, but they really are best eaten as soon as possible.
When preparing to de-petal the dandelions, pick them no more than a couple hours prior. They are easiest to de-petal when the blossom is big and open. Dandelion blossoms tend to close up and wilt very quickly. In general, I pick a big bowl of blossoms right before making dinner and then 2-3 hours later, after Sam heads to bed, I get comfy on the couch & start to de-petal the blossoms. You can still de-petal dandelions even after they close up, but it's just a trickier task.
Dandelion petals can be frozen! Once you de-petal the blossoms, pop them into a freezer bag or container (I measured out 1 cup bags). This makes life easier when you want to tackle bigger dandelion projects (like dandelion wine) or if you only have a small crop of dandelions and therefore have to combine multiple harvest days to accumulate enough petals.
I tried washing the dandelion blossoms, letting them dry, and then de-petaling. It was kind of a fail. Now I don't even worry about washing the blossoms to de-petal them. You can clean off any bugs you come across while you de-petal each one. Our yard is chemical free, and pet-free, so I just don't worry about it. I do wash the greens in cold water after I harvest them (just treat them like any other salad greens).
I choose to wear rubber gloves while de-petaling. Besides my struggle with eczema on my hands, I just don't love the sticky, &  yellow stain mess that is involved with de-petaling. Even with pumice soap, it's tricky stuff to get off. Then again, I spend a couple hours at a time de-petaling, so maybe if you're only doing small batches, it wouldn't be so bad 😉
Fact: Children love to play with dandelions. They are an easy crop to teach kids to harvest. Sam has really enjoyed helping me pull off blossoms. Even got him de-petaling for a little bit one afternoon. So dandelion harvest time can definitely be a kid friendly task.
There are lots of interesting things to make out of dandelions. There's a good collection of ideas & recipes on The Prairie Homestead blog. I started out simple, just making come dandelion green salads. There's really no end of possibilities when it comes to salad combinations. Just think of some of your favourite salads or dressings, and add or substitute dandelion greens. For example, I love broccoli salad, but there's no broccoli ready to harvest in the backyard, so I used dandelion greens instead, added my usual raisins, nuts, and cream dressing. Viola! I tend to like adding sweet things to salads made with dandelion greens, just to cut the slight bitterness of the leaves. I'm thinking strawberries and sunflower seeds next time around or maybe a sweet rhubarb dressing. Just have fun experimenting with it!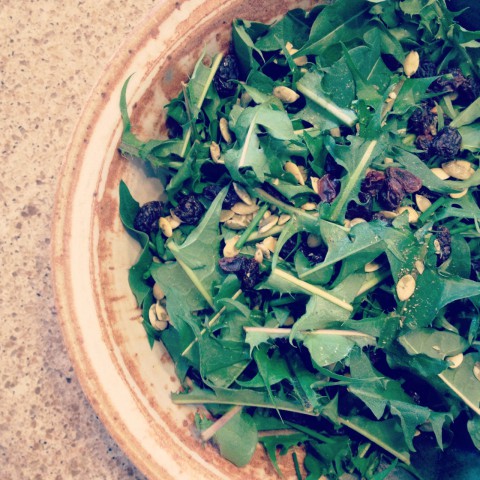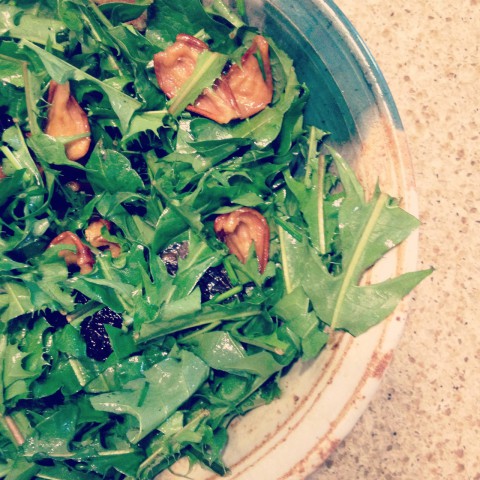 There are several things I want to try making with the dandelion blossoms and petals, including syrup, fried blossoms, and wine (if I'm super ambitious one week). We made dandelion cookies this week from some of the fresh petals. They were yummy and a hit with Sam. I used a recipe from the Dinner For Everyone blog. Since they are basically oatmeal cookies with dandelion petals, I want to try adding raisins to them next time around.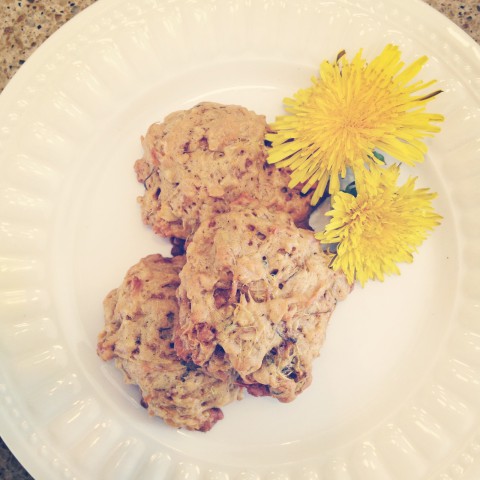 Have you ever done anything with dandelion greens or blossoms? Would love to hear about it! Also, should let you know that if you happen to be one of those lucky folks who don't suffer from dandelion invasions in your yard (or don't have a yard), chances are you can purchase dandelion greens from your local urban farmer or grocery store. Here in Calgary, you can check out the YYC Growers & Distributors booth at some of their upcoming farmers' markets. Some of the greens you purchase from them might just be from our yard.