Finally a third installment in our "Happy Food" series! You can find the previous two posts here and here. This time around I want to share one of hubby's fave recipes for low-carb "bread", Almond Butter Bread. I say "bread" loosely because generally we joke around calling it almond-not-a-bread. It's close to the texture of actual bread, without having any flour in it. You can slice it, toast it, use it for sandwiches, dip it in egg yolks, and spread your favourite jam on it. Close enough to bread for someone who eats a low-carb diet and seriously misses bread. I've grown to quite like it, even though I still eat real bread on occasion. Not sold yet? Let me cut you a slice and slather it with some tasty homemade apple butter.
Almond Butter Bread
500 ml smooth organic almond butter (we buy ours at Community Natural, but it's also available at general grocery stores)
6 large eggs (or 5 extra large eggs)
1 tbsp baking powder
1 tsp salt
3/4 cup warm water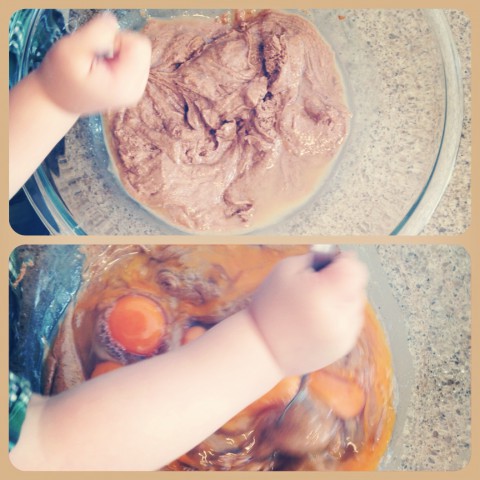 Preheat oven to 350 degrees Fahrenheit
Butter small loaf pan, 8″ x 4″ (be quite generous with your butter so the bread will pop out easily)
Place almond butter in bowl & mix well until almond butter is smooth
Add baking powder & salt and mix well again
Add eggs and hand whip with a fork until, you guess it, mixed well
Add warm water and mix until nice & smooth
Pour batter into loaf pan (it will be quite full, but don't worry)
Bake for 50 minutes
Remove from loaf pan and cool on rack
Slice and enjoy!
We've tried adding tasty bits like raisins and nuts to the batter before baking. It's yummy, but they do tend to settle to the bottom of the bread. Maybe you could drop some raisins in part way through the baking process? Haven't experimented with that too much. If you're looking to toast it, keep in mind that it burns a little more quickly than normal bread, so turn down the heat on your toaster a bit. Also, the bread is a touch bland, but that's why it works so well with whatever you decide to spread on it!
This week, I think I'm going to venture into actual bread making. We picked up some lovely Red Fife flour from Country Thyme Farm. Confession: I've never actually made bread before. Working with yeast makes me nervous. It's why we don't have homemade cinnamon buns in the house, no matter how much I love the smell of fresh baked bread. Hoping to change that in the coming weeks. Wish me luck! Even if I pull off "real" bread, I'll still be making this tasty Almond Butter Bread for hubby & myself to nibble on.