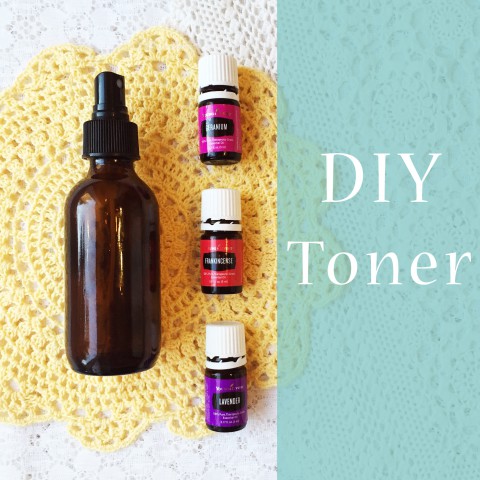 We've been introducing essential oils into various parts of our lives, from bath products, cold remedies, stress & pain relief, and to simple enjoyment in the diffuser. Today I'm sharing a pretty basic tutorial for making your own facial toner.
This is a simple bath & beauty product to make and one that you can customize using whichever essential oils you'd like. I quite enjoy using a facial toner in the mornings, to help my skin feel fresh. In the summer time, when I get more sweaty & grimy feeling, I tend to use the toner more frequently. Applied to a cotton facial cleansing pad, and gentle wiped across the face (avoiding the eyes), the toner cleanses, refreshes, and moisturizes.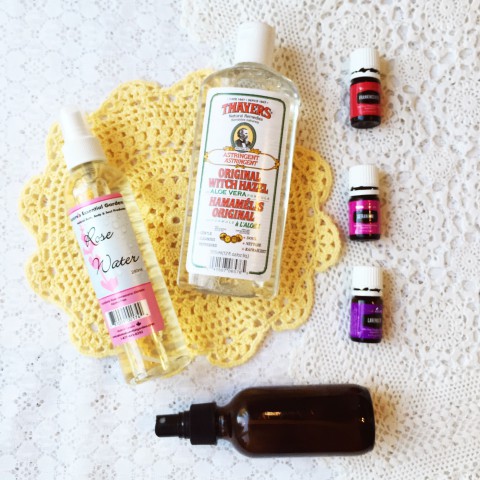 Here are the supplies you will need for this project:
60 ml Witch Hazel
30 ml Rose Water
8-10 drops of your preferred essential oils (I used 4 drops Geranium, 4 drops Lavender, and 2 drops Frankincense)
empty glass spray bottle
funnel
measuring cup

I have not tried a whole bunch of different brands of Witch Hazel or Rose Water. Like most things, not all products are probably made equal. This Witch Hazel was what I saw used on several other blogs. The Rose Water was recommended at the store, and I have to say, its scent is lovely (Plus made in Canada). Feel free to substitute using whichever brands you prefer or can find (I'm not being paid or sponsored for this post).

First measure out your witch hazel and rose water. Pour into your glass bottle. Using a funnel is very helpful.

Next add in drops of your desired essential oils. There are lots of combinations you can try. I've found 8-10 drops total was appropriate for this mix. Of course you can make it stronger, if you'd prefer. Place spray lid on bottle. Gentle shake to mix. Viola! Toner. Give it a little shake each time before use.

I used Geranium, Lavender, and Frankincense oils from Young Living. Geranium: I've noticed this oil listed in several of the beauty products I've purchased. Turns out it's great for tightening facial skin & overall skin health. Lavender: is supposed to be beneficial to the treatment of acne. It's simply one of my favourites. Frankincense: has anti-aging benefits & helps tone skin

There's lots of other essential oils you could use, with skin care benefits. Here's my list of ones I'd like to try (in various combination): Carrot Seed, German Chamomile, Grapefruit, Bergamot, and Copaiba.