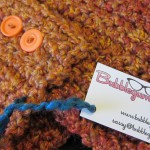 … tryin' to figure out just what's been missed. Oh, the joys of list making. I am feeling deep in the thick of it right now. There are only four more days left until my first craft show and I only actually have two evenings left in which to complete, organize, and pack everything up.
All the scarflettes that were "in progress" are now complete. The scarflettes were super simple to tag and I am really satisfied with how they look. I just used scrap bits of yarn left over from making the scarflettes to attach the business card tags. The contrasting scraps play-up the overall colourfulness of the scarflettes, plus it uses up bits that might otherwise be tossed in the garbage or left outside for the birds.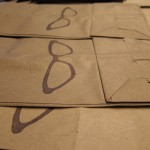 The shopping bags are all sitting pretty, waiting to be used. The handmade stamp was fun to carve and I think it suits the brown kraft bags. I considered carving my entire logo and name, but opted to just tackle the glasses, which makes for some pretty funky bags. They feel like they have a good mix of mystery and hipster-ness. I'm sure there are folks who feel that the bags should clearly indicate the shop or company they are from and act as some free advertising. Which I get. Personally, though, I am more likely to re-use and keep re-using a bag that doesn't act like a blatant advertisement. Afterall, the re-usability of the bags is definitely a concern for me. One day I might still switch to a sticker instead of the stamp, but in the meantime, I have an inexpensive stamp to decorate everything with (it only costs me a small blister or two).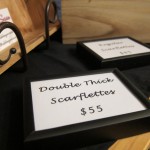 Last night I spent some time typing, printing, cutting and framing (they look so nice in frames) signage for the craft table. Besides having the scarflettes individually tagged and priced, I also wanted to ensure I have some price signs to set out in the display. There is nothing more frustrating as a customer than not being able to tell at a quick glance how much an item costs. Yes, I am one of those people who won't purchase something if I have to ask how much it is. I know I'm not alone on this either. Sure, there is the random thing that just gets missed being tagged, but if the next two or three identical items I pick up still don't have a price on them, then I am likely to move along. This goes for signage too. If I can't clearly figure out which price sign goes with what item, it's a turn-off. Customers are out to shop, not problem-solve your pricing. So I hope that my signs and pricing will be nice and clear.
Besides some price signs, I also printed out a few photos of the scarflettes being worn by none other than myself. I really need the help of one of my beautiful friends to model these at some point. Thank goodness for the cropping and blemish removal tools! Anyway, trying not to be too self-conscious, I will hang these photos on the wall by the mirror, so folks can see at a glance what the folded, cozy, fuzzies on the table look like on someone. Plus, I will be wearing one. That wooden box on the right will display the coin purses, which I haven't individually priced, but I figured placing them in a container all together with a clear price sign should work. Tonight, the list checking continues, as I prep the big table cloth, figure out a container to keep the money, and finish sewing the last four coin purses. Wish me luck with the last bits and pieces!