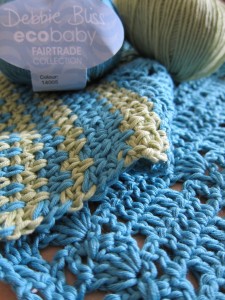 … stuff for babelettes. Not my own, mind you. Let's be very clear about that. Seems like I am surrounded by wonderful, beautiful expectant mothers these days. It is such a blessing! It's been a lot of fun walking alongside friends as they go through their first pregnancies and the coming months will continue to be full of change and excitement. Plus, my friends have given me the perfect excuse to make baby things!! Precious, sweet, cute, baby things! And so the blissful making has begun.
I'm actually planning on sewing a number of the baby items, but I got started on a couple new crochet sweaters just for fun. Couldn't resist buying this lovely yarn after a trip to Pudding Yarn, our local yarn heaven. It's the Debbie Bliss EcoBaby fair trade, organic cotton. I'm using this Multi-Coloured Top pattern that I found on Etsy. It's been fairly easy so far. Vita's patterns are very clear and have good photos to clarify the special stitches used. Just need to make the sleeves and sew it all together and then I can add it to the small pile of baby items that will surely grow over the coming weeks.
Happy crafting to you all on what some call Valentine's Day, and others call Monday!