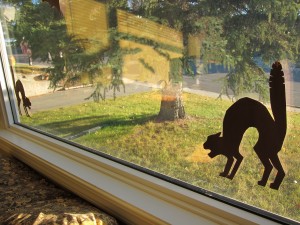 Last October was the first time that we got to celebrate Halloween in our very own home . So of course, I delved into making a variety of decorations, which I was able to re-use this year, with the addition of my spooky crochet spiders.
For decorating inspiration I turned to the one and only Martha, queen of Halloween. I don't subscribe to her magazine, but the two issues each year that I buy are October and December, and there are generally packed with beautiful and fun ideas, some of which I feel like I can even do myself! Then there is the website, which is packed with even more ideas. So when I needed to start from scratch with Halloween decorations, I turned to good 'ol Martha.
The first thing I was drawn to was a childhood classic. I knew I wanted to cut out some construction paper silhouettes to tape to our front window, which we always did to decorate at my parent's house. Martha has lots of handy templates to download for free. I used these flying bat and spitting cat templates, although I increased the size of the bat. Buy some black construction paper, trace the templates, cut out, and voila! Pretty simple, eh?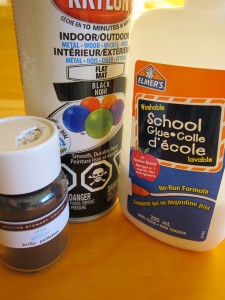 The next thing I tackled was slightly more complicated, but I was thrilled with the results. I found the inspiration for it on The Long Thread. I used the following materials: cardboard, utility knife, black spray paint, white glue, paint brush, black glitter, string, and a big branch. I used the same template from Martha as above, but used both the original and enlarged versions, so there would be two different sizes. Here's the basics:
1. Cut the bats out of cardboard (I cut out seven total, a few small and a few large)
2. Spray paint the fronts and backs black, let dry
3. Brush one side with basic white glue and sprinkle with black glitter, let dry
4. Use a ball point pen to punch a hole through each bat in the middle of their heads
5. Cut varying lengths of string and thread each bat with one
6. Hang a branch wherever you will be displaying your bats (I put ours outside)
7. Tie each bat onto the branch
8. Stand back and watch them flutter