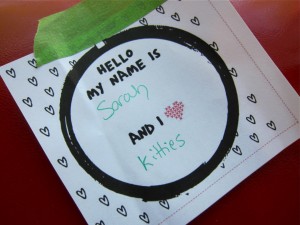 There was lots of extra hours spent at the doggie daycare last week, hence the lack of posts here. Keeping busy with so many bits and pieces of things that I tend to make myself nauseous with all the spinning to and fro. I've started to reach that point where I might be spread a bit thin. Stuff around the house is slowly being neglected and I keep forgetting things. You know it's bad when your hubby is the one to remind you of an upcoming craft party. That made me stop and realize that I need to re-prioritize things over the coming days, so I don't get lost in the spinning. We are headed out to the mountains to do some camping at the end of this week, so that should help clear my head a bit. Nothing like fresh air and time to just sit and listen to the birds (and many chipmunks) and the creek of trees.
The craft party that I almost forgot about, but did manage to attend was the 2nd Annual Etsy Global Craft Party. The lovely Darcy of Splurge organized a local party for the Calgary Etsy folks at the Triwood Community Centre on Friday night. I'd had the pleasure of meeting several of the gals at the Calgary Make It event, but did get to meet a few more ladies. And although I was totally pooped from the week and so not in a crafty mood, it was nice to just sit and chat. There was plenty of crafting going on, including card making for charity and sewing mittens from old felted sweaters. I just plopped down in a comfy chair and nibbled cupcakes while chatting and absorbing some great Etsy shop tips. One great little tidbit that I will need to spend some time playing around with is the use of Shmetsy extensions and apps to take a bit of the pain out of making treasuries. Treasuries are a real joy to make and useful for promoting fellow sellers (who generally return the favor, and thus promote you), but they can be a real time-suck to create. Anything that can ease the process or remove a couple steps is definitely appealing to me.
There are a couple of shows that I need to get myself organized for. I will be at the Calgary Weekend Market at the Scenic Acres Community Centre on June 25th. That same weekend is Market Collective and Kalen of Minibytes has offered to include a few of my things on her table, which is awesome! The next "big" show for me is up in Edmonton on July 15 & 16, where I will be a vendor at the Handmade Mafia event during the Edmonton Art Walk. This will be the first out-of-town craft show, which makes me nervous, but with the help of hubby should go just fine. I need to keep reminding myself that I DO INDEED need to make more stuff for these shows. Since my last show at the roller derby, I seemed to have hit a sewing wall. I think I just needed to take a break from it for a while, so switched to crocheting scarflettes. I KNOW! Seems so crazy to start thinking about winter and snow when summer has barely arrived, but I do intend to participate at many craft shows during the Christmas season, which means lots of inventory. At least scarflettes don't require quite as much brain power as sewing and can be done while crashed on the couch watching a movie with hubby.
On a completely different topic… babies have started arriving. First, my fav blogger Amanda of Soule Mama had a gorgeous baby girl. Lovin' the photos of this sweet baby as the weeks move along. Also found out that my friend Joanna had her baby (her first) just last night. That leaves two babies yet to come. One due any minute now and another due in August. So wonderful to be surrounded by new babes and their lovely mamas. Prayers of health and patience to them all.