This week baby is the size of a lemon!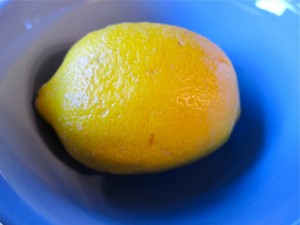 Lemon
Whole
One
Yellow
Blue
Vivid
Sour flavor
Colourful
Close-up
Indoors
Still life
Nobody
Ingredient
Ways I like lemon best (especially in the summer):
thinly sliced and cooked on top of fish
juice or wedges in an ice cold glass of water or sun tea
freshly squeezed on jicama (as a salad or just jicama sticks for snacking)
my family's Yummy Lemon Dessert recipe (yes, this just uses instant lemon pudding and not fresh lemon, but it's so darn good)… The most similar recipe I could find online for this is here. We've never put add nuts to it though, but that sounds like a nice twist.