Over a month ago now (almost two…seriously behind on posts) I had the honor of hosting a Pinterst party. I was so excited for it! Gave me something awesome to look forward to. It was also a great excuse to scour Pinterest for new recipes & party ideas. The theme for the party was "spring", so I decided to go with lemon flavored treats, fresh fruit and flowers. Here's what I put together: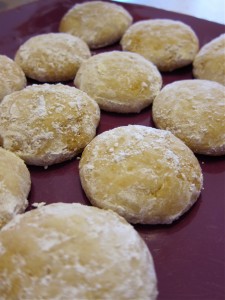 Chewy lemon snowdrop cookies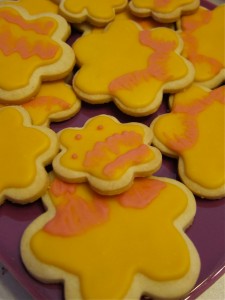 Flower cookies with a no-egg-white royal icing and brush embroidery (a very amateur attempt at cookie decorating… need more practice)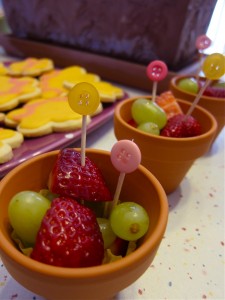 Flower pot fruit cups with button toothpicks, my own invention, inspired from ideas found here.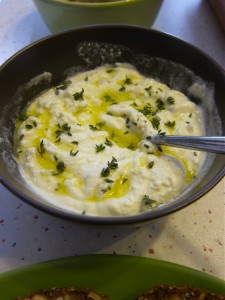 Lemon feta dip, so tasty on crispy crackers and I'm sure would work well as a dip for veggies too.
As with previous Pinterest parties, guests brought a craft project along to work on. Keeping with the "Spring" theme, I made Sam's roller derby onesie in preparation for the season opener.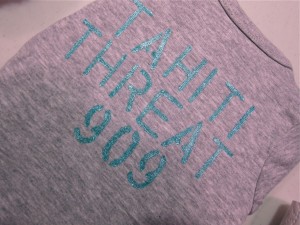 Christine was using her knifty knitter to work on a pretty purple scarf.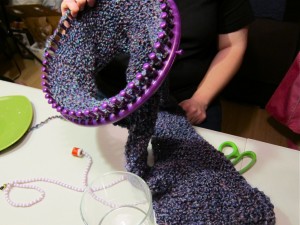 Ellen was crocheting a lovely, and oh-so-fine, spring scarf. Her patience with that particular project is amazing! That wool and I would have parted ways long ago.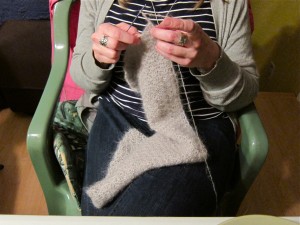 After finishing up a couple more tag blankets, Shauna began braided together strips of fabric to make a necklace or headband or both. So muh fun! And the colours were so springy! Probably inspired by this.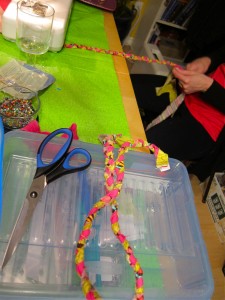 And Jan was working on this lovely spring wreath made from a foam wreath form, yarn and felt flowers (which she also made). Jan has an entire Pinterest board dedicated to wreaths!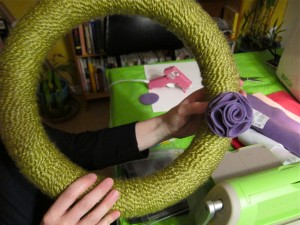 That was our night of craftiness. A good time indeed! And now it's almost time to start planning the next Pinterest Party. (One day I'll catch up on posts. Probably. Eventually.)