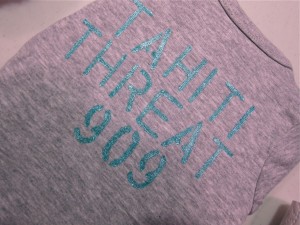 Yep. That one word elicits so much excitement in our house. We had been waiting for this year's roller derby season to start up. Even decorated a cute onesie for Sam to wear with his Auntie Tina's derby name & number. Sadly, derby turned out to be a bit of a bust for baby. It was too loud & scary in the arena, so I spent the evening in the lobby watching from a distance through the glass.
However, I had already signed up to be a vendor at a couple of the games. This weekend will be my first attempt at selling my crafts with baby boy in tow. I've got lots of volunteers waiting in the wings to help me out with him, while I "try" to sell my bits & bobs. The biggest kink in the plans came when Sam decided to refuse bottle feedings. Not even a sippy cup will do. He wants one thing and that's his mama. Which is wonderful. Truly. I know how thankful I should be, but it just makes some things a little more difficult. Like trying to be a vendor at an event that he is unhappy at. We'll give it a try. What more can you do really? I remind myself… patience, patience, patience. And enjoy this time with Sam while I can. He IS growing up so quickly after all.
Wish us luck! And if you want something fun to do Saturday night, come by the Triwood Arena to see the Cut Throat Car Hops take on Saskatoon. Doors open at 6pm, game at 7pm. Tickets are just $10. I've got a couple new products for sale, button hair clips & upcycled cuff bracelets. Hope to have pics of these to share here soon.