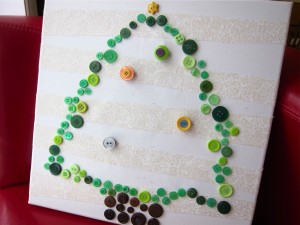 As promised, here is the button Advent calendar that I made. Sam has been having fun selecting a button magnet to place on the tree each day. It is slowly getting more colourful as the days pass. And once again, I failed to do a step-by-step photo documentation of how I made this beauty, but it's really pretty simple. Here's a list of the supplies you'll need:
store-bought white canvas (any size or shape)
strips of white or beige (fairly neutral) fabric
Mod Podge matte finish
craft paint brush
hot glue gun & plenty of glue
buttons (lots of green, some brown, and various colours for the ornaments)
strong magnets
thin strips, sheets, or pieces of metal (I just used the round metal bits that the magnets come mounted on when you purchase them)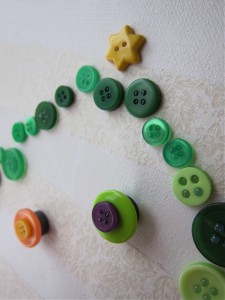 First step, I used Mod Podge to attach the strips of fabric to the canvas (you could just skip this step & leave the canvas blank, but I thought it needed some subtle "sprucing up"). Let dry.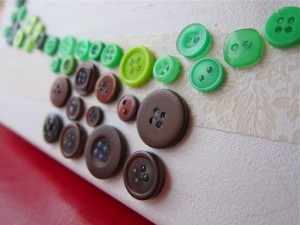 Next, I arranged my green buttons on the canvas, loosely forming the shape of a tree. Then used brown buttons for the trunk of the tree. Once I was satisfied with the design, I got to work with the hot glue gun, fixing each button into place.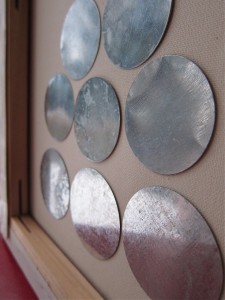 Then I flipped the canvas over and, once again using the hot glue gun, attached the thin metal pieces.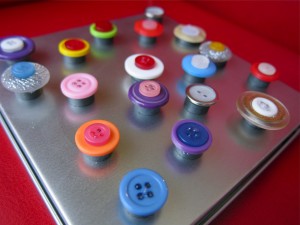 Lastly, I made the button "ornaments" by stacking colourful buttons onto each other and then gluing them onto a magnet.
Easy-peasy.