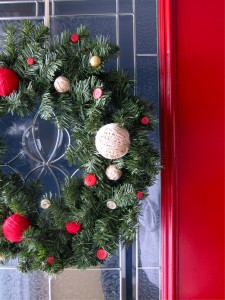 …on a Monday. A little extra button-spiration this week. With Christmas around the corner I couldn't resist sharing my button wreath. I bought the plain faux evergreen wreath from Michaels, wrapped red & gold yarn around various sizes of foam balls (purchased from the dollar store), and then glued the balls, along with red and gold buttons onto the wreath. Voila! Perfect Christmas button wreath! Quite satisfying! And there's no mistaking that you've arrived at the house of a crafter when you see the wreath on our front door.
Couple of tips:
Do tack the yarn onto the foam balls with hot glue here & there as you wrap the yarn, but no need to over-do the gluing.
Do tie some of the larger balls onto the wreath before fixing them further into place with hot glue.
Don't "over do it" with the buttons. As much as I love buttons, I think the key is to keep it simple.