It's been a little long in coming, but finally put together the second installation of my Happy Food series. You can find Part 1 here. Keeping with my intention of changing some of our food habits, I finally decided to get on board with my hubby and cut out all vegetable & canola oils (including shortening). I wasn't using them all that much really, mostly in my baking. We already frequently use olive oil, butter, or bacon grease to cook with. We decided to start using coconut oil for some things. The switch wasn't as difficult as I had built it up to be. In my mind, it was going to be a real pain in the butt and mean sacrificing some of my fave recipes (many passed down from my family) and having to find new ones to use.
This has not been the case. I found some helpful, easy tips online about substituting coconut oil for vegetable/canola oil & shortening. I also embraced the fact that things might not turn out "right" the first time. Armed with that attitude and determined to commit to the switch, I dove in. I started substituting coconut oil in my baking in the fall, and so far, there hasn't really been a fail recipe. So today, I want to share some of the tasty things Sammy & I have been eating (hubby is low-carb, so he skips most of these treats… being low-carb is quite a big eating habit change, one that I'm not mentally or emotionally capable of committing to, yet).
First off, you might ask, why coconut oil? It's not locally grown or made and travels large distances to get onto my pantry shelf. This is one of those instances where healthy outweighs buying local, that is, until we have our own dairy cow & can make enough butter to keep our household happy without breaking the bank. For hubby, who believes in low-carb eating, the fat in coconut oil is not something to be scared of, but embraced. You can find plenty of info and ugly videos on just how disgusting vegetable & canola oil is. With the limited time we have on this earth, I'd much rather put yummy organic coconut oil in my body than that stuff! Don't get me wrong, we LOVE butter at our house and have been trying to purchase butter from pasture-raised, grass-fed dairy. Simply put, it's expensive, especially in the quantities we already use. The good quality milk to make the butter is pricey too. Again, I dream of days when we have buckets of milk from our own dairy cow to make yummy, healthy butter.
So let's check out some of the tasty treats.
We've made yummy pancakes, waffles, even Sammy's birthday cake. Some of these were done with a box mix for dry ingredients (hey, I didn't say we were perfect). Homemade biscuits are great with that touch of coconut taste. And we've made lots & lots of muffins! Coconut oil in muffins has been a delightful discovery. Try it! Another wonderful recipe find has been Coconut Crack Bars. They're a super snack at our house now, that even Sam loves! I even figured out a low-carb version for hubby (skip the agave syrup & salt, increase the coconut oil, melt some of the coconut oil beforehand and add some lime juice). And who can forget THE best gingerbread cookies I've ever made!?! Yep, for Christmas this year, I stuck to my commitment to avoid shortening and made my mom's gingerbread cookie recipe with coconut oil. Best batch I've ever made! Seriously. That officially ended my fear of substituting coconut oil into my fave recipes.
By the way, frying some veggies (like kale & chard) and meats (like beef) in coconut can add a nice change in flavor. I sometimes put just a dab of it on cooked veggies before we serve them (so yummy on carrots). There's a lot you can do with coconut oil!
Here's our fave muffin recipe for you to try:
Banana Chocolate Chip Coconut Muffins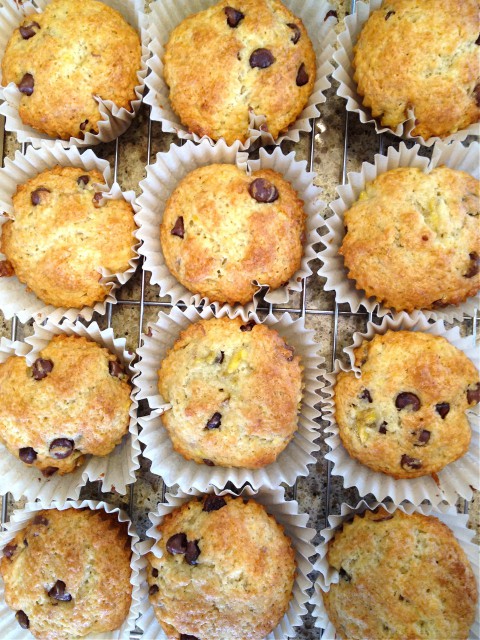 Ingredients
• 1 3/4 cups all-purpose flour
• 3/4 cup sugar
• 1 teaspoon baking powder
• 1 teaspoon baking soda
• 1/2 teaspoon salt
• 1 egg
• 1/2 cup coconut oil (or a touch more for even more moistness)
• 1/2 cup plain or vanilla greek yogurt
• 1 teaspoon vanilla extract
• 1 cup mashed ripe bananas
• 3/4 cup semisweet chocolate chips (or more if you want)
• 1/2 cup finely shredded coconut (optional)
Directions
1. In a medium size bowl, combine egg, yogurt, and vanilla. Microwave for 20 seconds & let sit.
2. In a large bowl, combine the flour, sugar, baking powder, baking soda and salt.
3. Measure out your coconut oil & melt it.
4. Add the melted coconut oil to the bowl of other wet ingredients. Mix well with a whisk.
5. Stir into dry ingredients just until moistened.
6. Fold in bananas and chocolate chips and optional shredded coconut.
7. Fill parchment paper-lined muffin cups two-thirds full.
8. Bake at 350 degrees F for 22-25 minutes or until a toothpick comes out clean.
9. Cool for 5 minutes before removing from pan to wire racks.

Tips For Baking With Coconut Oil
To substitute coconut oil for vegetable oil, simply use the amount of oil called for in the recipe & then melt it. It's a straight 1-1 substitution amount.
To substitute coconut oil for shortening, reduce the amount of oil used by about 25% (for example, if the recipe calls for 1 cup of shortening, use 3/4 cups of coconut oil).
To melt my coconut oil for baking recipes, I usually pop it into the microwave for 15 sec. The "experts" on coconut oil recommend a double boiler. If you use a microwave, just be very careful not to over heat. Coconut oil melts easily.
Coconut oil has a lower smoke-point than vegetable oil, so keep that in mind if you're frying it.
The  most helpful thing to keep in mind, if you're adding melted coconut to other wet ingredients in a recipe (like eggs & milk), make sure those ingredients are not straight-out-of-the-fridge cold. Start your baking by mixing together the cold wet ingredients, microwave them for 20 sec & let them sit while you organize everything else. This will ensure that when you add the melted coconut oil to the wet ingredients, the oil won't start to cool & re-solidify right away. The first recipe I tried, I didn't heed this advice & the dough never was a great consistency for mixing thoroughly.
Hope you enjoy experimenting with coconut oil! I'll try to post some of the other recipes we use, like our homemade biscuits and gingerbread cookies, later this month.