There's new product now available in the shop! It's like having a fridge full of fresh, new veggies! Or something like that. I've been busy making lots & lots of button hair clips to sell through consignment & thought that my Etsy shop could sure use some of these sweeties. Going forward, I'm likely to focus on selling the clips in sets (of two or six) instead of just individually. Besides, if you like the clips, you should probably have two (or half a dozen), just in case.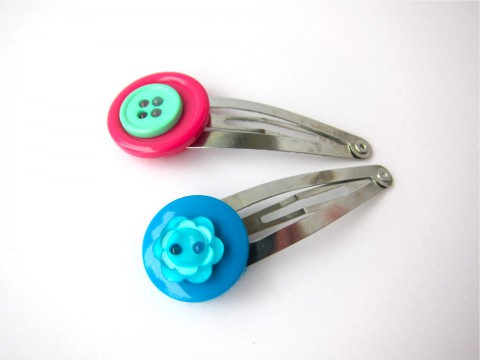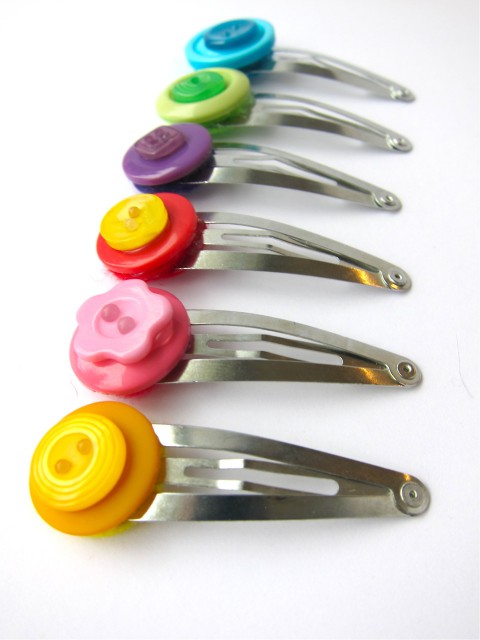 Seeing these new items in the shop is getting me in the mood for spring. Realistically we're still a looong way till spring here in Calgary, but a girl can daydream about that first bit of colour bursting forth from crocus bulbs. Meanwhile, Sam keeps asking to do garden stuff. Poor little guy can't find a patch of unfrozen dirt anywhere in the backyard. So we listen to the birds and make little seed treats for the backyard critters to pass the winter days.
I've started to survive the grayness, ice & cold, by hand stitching felt birds to these colourful corduroy coin purses. Keep the hands busy, the mind focused on bright things and spring will eventually arrive. After many, many years of sewing my coin purses (I designed & started them back in 2006), I've been getting bored with them. It was time to refresh my creative juices and I longed to do some quiet hand stitching in the evenings after our little man heads to bed. That's where these *Put a Bird On It* coin purses came from (you have to watch Portlandia!). Sticking a bird on things, instantly makes them better, right? Well, actually, in this case, it worked. I'm back to enjoying the process of making them. A handful are headed to Treehouse Boutique in Ontario and the rest will be nesting in the Etsy shop, until they find a better home.