I'm back from my little journey down to Colorado for Grandma Rosie's funeral. Happy to be home, but very grateful for the time to spend with my extended family. This trip can be described by no other word than "priceless". It was a rare chance to travel with my brother & his wife, to show our love & support to our Grandfather, to meet some of our relatives from Missouri for the very first time, exchange hugs with people we haven't seen for 20 years. I always cherish the stories my Grandfather tells, this time more than ever. There was a lot of family history that was brought up, things I've never known.
My sweet aunts sent me home with some things to remember my Grandma by: her crochet hooks, some unfinished embroidery, the necklace she wore for her 50th anniversary, a charm bracelet with photos of her grandchildren, one of her rosaries, some of her scarves (one still smells like her), a little crochet angora peter pan collar that she made & wore when they lived in Alaska in the 50s, and some other wonderful treasuries.
One of the things we got to help with while we were down in Colorado Springs, was one of the flower arrangements for Grandma's funeral. My cousin, Shannon, is an incredibly talented floral designer and we had fun following her directions to make this heart-shaped arrangement: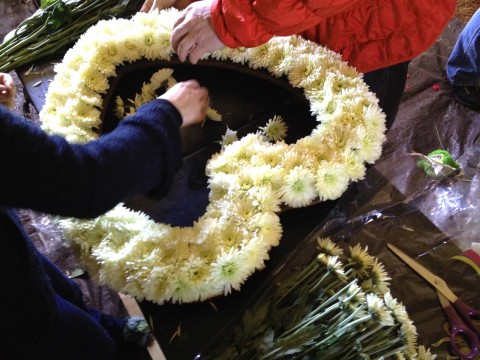 My cousin, made an incredible rosary from roses that hung from the heart. She also did the gorgeous spray and the roses that were placed on Grandma's casket.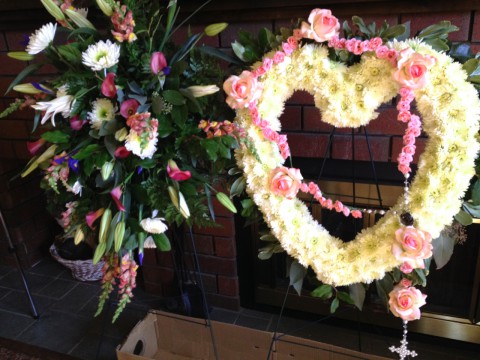 My aunt made the arrangement with the statue of St.Francis and the wheat & tractor. So perfect for Grandma.