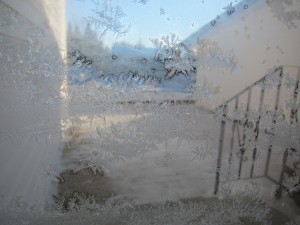 For folks who live in the Calgary area, this post might seem like old news or something you'd rather ignore than admit. As Calgarians we do indeed choose to live in a place that can easily get down to -35 Celsius (without wind chill), which is I believe about -30 Fahrenheit. My American friends and family think that is down right ridiculous and I'll admit that at below -40 Celsius, I begin to question my decision to leave the house.
This week was our first bit of deep cold and snow hit. Roads were bad and traffic was insane. Thankfully I take public transit to and from work, but even that becomes challenging in bad winter conditions. Not just because you risk frost bite, even if you bundle up, but because our light rail transit runs into problems with track switches freezing, doors freezing, vehicles getting stuck on tracks, and general passenger overload. Le sigh. If you're lucky, you have a job that allows you to work from home on days like this. If you're brave and smart, you're prepared with lots of good quality layers. For me, this last part is a must and my go-to for the best stuff is Mountain Equipment Co-op. I grew up wearing hand-me-downs from M.E.C. and it was great for all our family outdoor adventures which included camping, hiking, and skiing. Not to mention just going out to shovel the sidewalks. When I was in University, I got a part-time job at a local fabric store that specialized in all outdoor related textiles (fleece, water-proof breathables, and lycra to name a few). One of the many amazing skills that I developed while working there was learning to sew with all these fabrics. Sadly, the store has since gone out of business, but I still have several technical fabrics in amongst my craft stash longing to be made into winter survival wear.
For now, the temperature is quickly rising and it looks like we are in for a bit of a break, which means that I can shed a few layers.
Happy Thanksgiving to all the folks south of the border! Wishing you safe travels and mild weather!