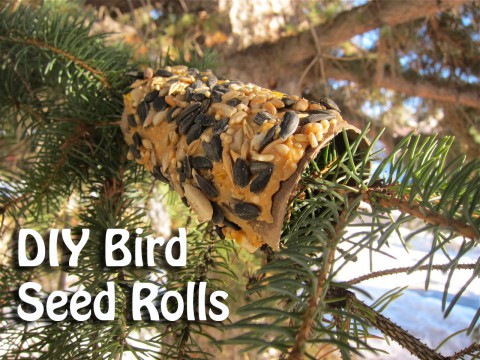 Our little man really does like watching birds. Two-years old and I'm already picturing him as a geeky birder. Plus, he looooves to look through all of his daddy's seed catalogues, learning the names of plants and flowers. Definitely a future geek. Oh, I love him so!
We have several storybooks with birds in them. His two fave are Riki's Birdhouse by Monica Wellington and Outside Your Window: A First Book of Nature by Nicola Davies. Sam has been learning about different birds & what they eat. So when I suggested one morning that we "make a special treat to feed the birds", Sam was super excited! He ran to the front door with his winter boots in hand! Once I got him to put his boot back for the moment, I quickly gathered the few supplies we would need: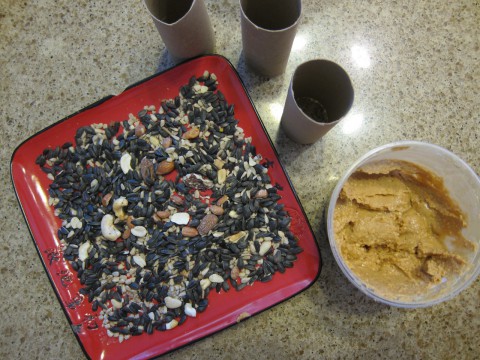 Plate (or baking sheet) with bird seed mix spread out on it (we used a variety of seeds, since I figured that both little & big birds would probably enjoy these, plus the occasional rascal squirrel)
Butter knife (the more dull, the better, if you're going to let the kiddos to this craft)
From there, the project is pretty straight forward. Spread peanut butter onto the toilet paper rolls (TIP: if you're using a type of peanut butter that normally resides in the fridge, you might want to pop it into the microwave briefly to soften it). I figured Sam would enjoy rolling the toilet paper rolls through the seeds best, but then I forgot how novel it was that he was getting to use a knife. Needless to say, he loved spreading the peanut butter! One roll kept him busy for quite a while. Oh, and as with all toddler projects, just embrace the mess!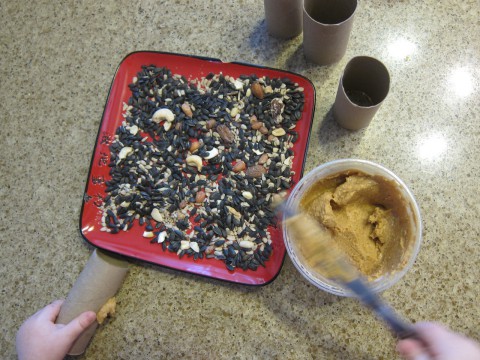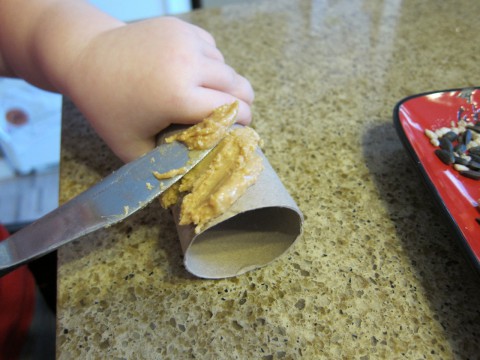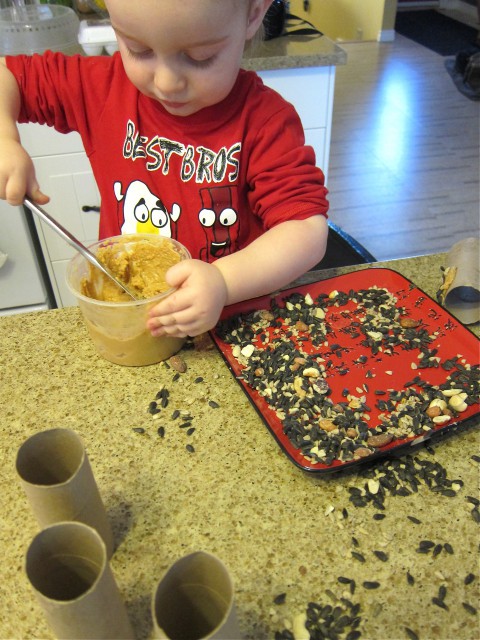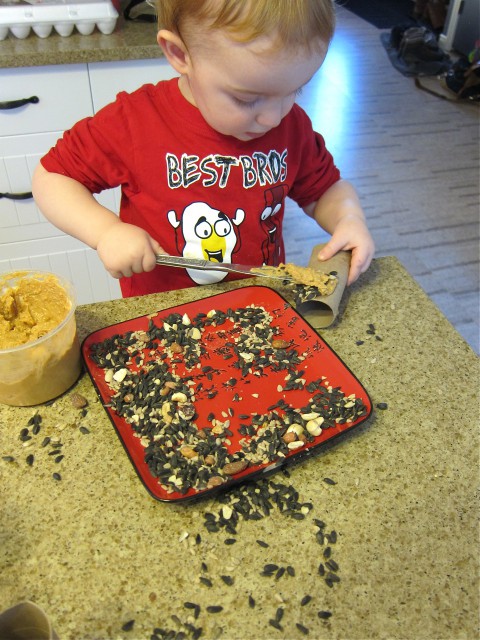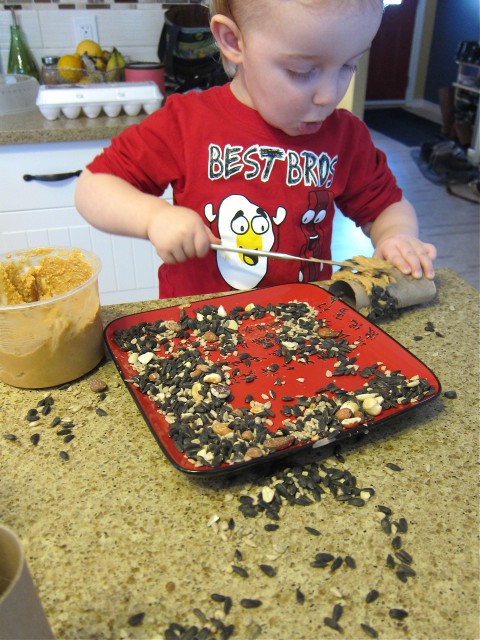 Once you've got peanut butter spread all over the toilet roll, gently roll it through your bird seed mix. Sam kept trying to roll his "partially" peanut-butter-covered toilet roll in the seed mix. Next time, I won't put the plate of seed mix out until he is done putting peanut butter on the rolls, just to keep things simple.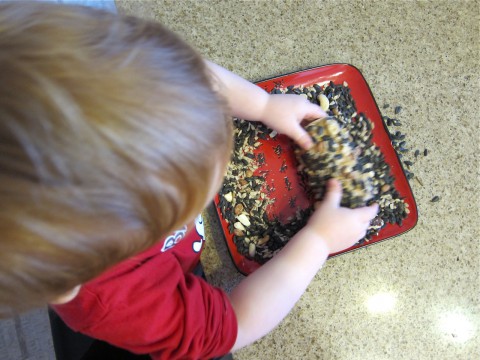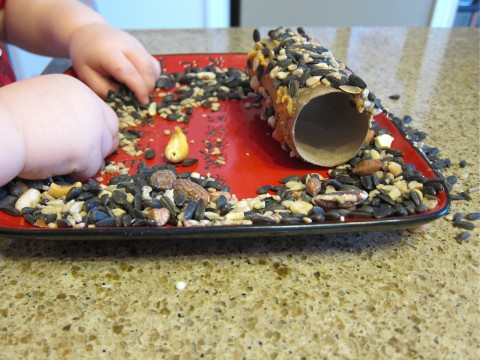 Ta-da! Homemade treats for the backyard critters!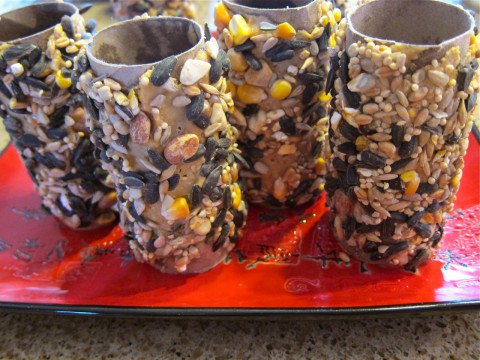 Now for the installation… really easy to do! Just slip the bird seed toilet paper rolls onto the branches of trees. I tucked ours into areas that would be protected from snow, and on branches that would be easy for birds to perch on and eat from. Once we had them hung on the trees, Sam & I sat in the backyard, listening to the birds and hoping that they would find our treats soon. Within a few days, the rolls were either picked completely clean (peanut butter and all) or the entire rolls disappeared (probably a squirrel or big crow made short work of ripping them off & dragging them back home).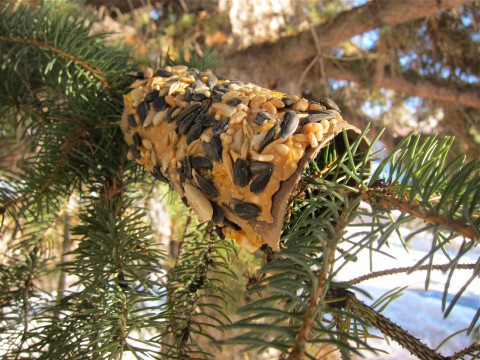 This project is definitely on our list of things to do again! The supplies are things we often have on hand (if you have kids, I suggest you start an empty toilet paper roll collection), it was easy to do with a toddler without any frustration or tears, and clean-up just involved sweeping the kitchen a bit. Plus, it got us outside and into nature, probably the best benefit of the project! I'm sure all our feathered and furry friends were thankful for the surprise feast.